Where were you in 2009? What were you doing? Do you remember the job you had or the car you were driving? For a lot of us, the answer very might well be no. But if you're reading this because you're a dyed-in-the-wool Rolex lover, then you probably remember 2009 for one very special reason…
Rolex doesn't frequently bring new models to market. Sure, updates happen every so often, as we've seen in recent years, but brand new families with a brand new target demographic? That's typically not something the brand does more than once a decade or so – and whenever it happens, it's big news. That's why back in 2009, the watch world was momentarily stunned to welcome a brand new member to the Crown's catalog: the Rolex Datejust II.
Perhaps even more stunning was the length of time the Datejust II survived. Just seven short years after its launch, the Datejust II was kicked to the curb in favor of the Datejust 41. While the Datejust II seems even more out of place now in an era that's witnessing a general reduction in case diameters, Rolex itself is bucking that trend. The new Submariner watches are bigger than ever, and it isn't beyond the realm of possibility to imagine the GMT Master-II or Daytona eventually following suit. As such, the Rolex Datejust II, which at the time of its release looked somewhat bloated, is just now starting to receive the respect that was lacking the first time around.
Rolex Datejust II
Datejust II Key Features:
– Production Years: 2009 – 2016
– Case Size: 41mm
– Materials: Stainless Steel; Yellow Rolesor; White Rolesor
– Functions: Time w/ Running Seconds, Date Display
– Dial: Multiple Options Available
– Bezel: Fixed, Smooth (Stainless Steel) or Fluted (18k Gold()
– Crystal: Sapphire (Flat w/ Cyclops Lens)
– Movement: Rolex Caliber 3136
– Water Resistance: 100 Meters / 330 Feet
– Bracelet: Oyster Bracelet
Click here to learn more about the differences between the Datejust 41 and the Datejust II.

About the Rolex Datejust II
We all know the Datejust is one of watchmaking's true icons. Released in 1945, the Datejust set the bar for all jumping date automatic watches that followed, and even today, it still does. For years and years – many decades, even – the Datejust has remained a constant in the Rolex catalog. Countless variations of the classic emerged. It was, or so it seemed for so long, an untouchable slice of watchmaking perfection. But times changed. While it seemed unlikely Rolex would heed the call, voices in the industry grew louder and louder in support of a bigger, brasher, bolder model tailored toward a modern audience.
And then 2009 happened. The Rolex Datejust II hit the shelves to the shock of the Crown's followers. It was exactly what those cacophonous calls had seemed to desire. And yet, for one reason or another, it always struggled to find the acceptance that Rolex probably expected it to receive.
The main reason for this was likely because the Datejust wasn't just a bigger Datejust. It was altogether chunkier. By stepping up the diameter and teaming the new sized case with relatively beefier lugs and a marginally more prominent bezel, the whole aesthetic of the graceful and pleasingly elegant original had disappeared. What looked on the surface to be a simple injection of HGH (Horological Growth Hormone) had resulted in an entirely new beast. It was a mutant that was not entirely what it was meant to be and yet not entirely new. And while that didn't resonate as resoundingly as hoped at the time, the years since its discontinuation have seen the once hardline stance against the Datejust II soften considerably.
A little bit of strange can be a powerful thing.
We needn't look too far in the history of Rolex to find other examples of watches that seemed unpopular at the time of their initial release that later became runaway classics. Probably the most famous grail Rolex in the brand's history, the "Paul Newman" Daytona, was a total disaster when it was released. Its unusual dial was way ahead of its time, but it has since become more popular than could ever have been imagined. If you had tried to convince anyone back then that these watches would one day be selling for well over six-figures at auction, you would have been laughed out of the dealership.
Consequently, it is always advisable to take a step back from new releases that feel jarring at first. I'm sure you've experienced the same phenomenon of changing tastes in your own life, in all manner of ways. What at first feels uncomfortable can sometimes become compelling. What at first feels alien can sometimes become attractively daring. Just four years after its discontinuation, it would seem that the Rolex Datejust II is starting to find its voice. And if you're looking for something classic that still stands out from the crowd, it might very well be a voice worth listening to further.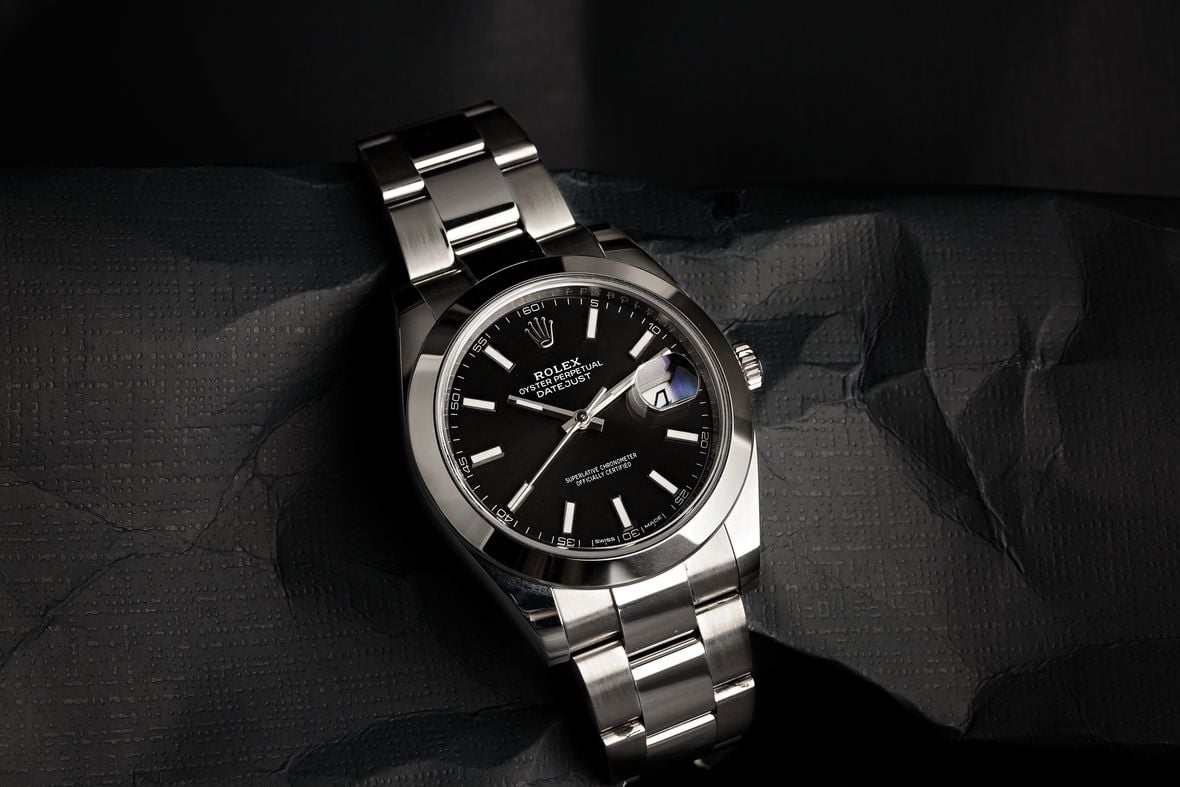 Interesting Times for Collectors
We are living through interesting times. With the Datejust 41 replacing the Datejust II in the Rolex catalog, there is an immediate (and relatively available) modern alternative to the often-overlooked forerunner. This creates a moment in time that might not be repeated. Given the Datejust II's relatively short lifespan and its overall poor commercial performance while in production, there aren't all that many of these pieces floating around compared to many other modern Rolex models. Plus, the ones on the pre-owned market right now command relatively low prices for what they are when stacked up against Rolex's current offering.
Better still, the Datejust II was released during an evolutionary era for the brand. Since it was released about five years after Rolex first started rolling out the engraved rehaut on its watches, Datejust II models will include this inherently modern Rolex feature. Additionally, powering the Datejust II is the Caliber 3136 movement, which is a refinement of the tried-and-true Caliber 3135 and promises all the reliability and exquisite finishing customers have come to expect from the Crown.
Unusually, the Datejust II doesn't use Chromalight lume on most of its dials (Chromalight is Rolex's own type of luminous material that glows blue, in contrast to the green-glowing Super-LumiNova previously used by the brand). However, the Datejust II was produced during an era of experimentation when it came to the lume that Rolex was using on its watches. One of the more memorable variations is the dial with oversized Arabic numerals running from 1–11 o'clock that are filled with a blue-tinted lume, while the hands utilize standard green Super-LumiNova. The result? A bi-color light show that is only found on a handful of watches in the entire history of Rolex.
Three of Our Favorite Rolex Datejust II Watches
So what are your options right now if you want to buy a Rolex Datejust II? Since the model is discontinued, the pre-owned market will be the only place to find them, as they have not been sold at authorized retailers or boutiques for a number of years now. However, this means that Rolex Datejust II watches are immediately available and you can add one to you collection without having to deal with any sort of waiting list.
The full-stainless steel model is typically the least expensive, with prices starting out at just over $8,000 and then increasing from there depending on materials, bezel type, dial style, and overall condition. There are ample options available under the $10k price point and a budget of $15k grants you access to the vast majority of the different configurations available. Below is a closer look at just a few of our favorites.
Rolex Datejust II 116334 – Black Roman Dial
There was a desperately cool wave of Rolex Datejust II models that used the seldom-seen Roman numeral dial layout. As usual, the 12 o'clock marker was occupied by the brand's famous coronet and the 3 o'clock marker was replaced by the Cyclops-magnified date. The rest of the numbers were all indicated by handsome, painted Roman numerals. However, the 9 o'clock marker was picked out by a single horizontal lume-filled index applied to the dial's surface.
While this dial sounds imbalanced and busy on paper, the opposite is true in execution. The 9 o'clock marker skillfully off-sets the 3 o'clock date and seems to give the other dial markings a bit more room to breathe. Rolex still produces a similar dial style on the current Datejust 41 with a slate surface and Roman numerals outlined in green (known as the Wimbledon dial), but the brand no longer produces the black version with silver outlined numerals, so this variation is both striking and entirely emblematic of the Datejust II.
Rolex Datejust II 116300 – White Dial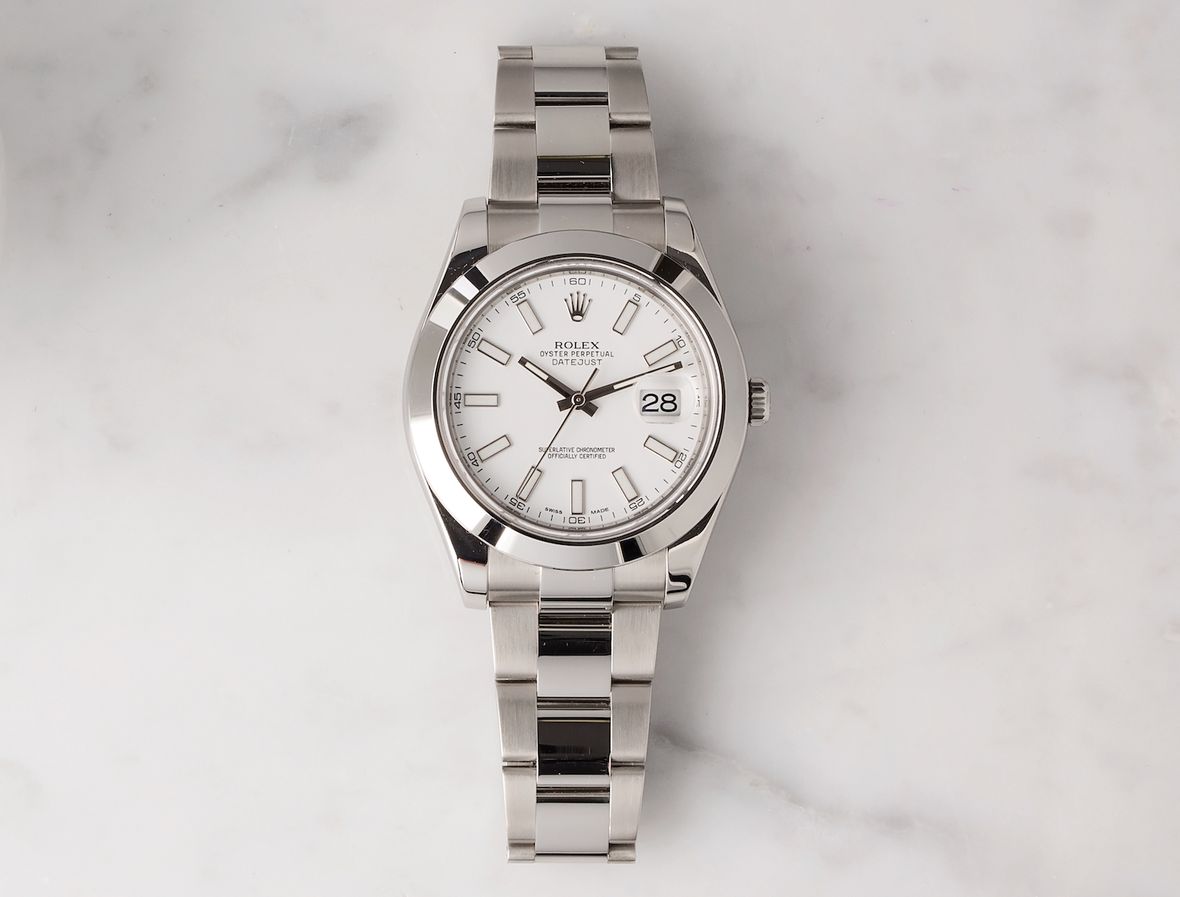 Finding a nice, crisp, white dial from the Rolex archives is always a treat. The reference 116300 is perhaps the most demure Datejust II variation to ever see the light of day and the classic white dial option perfectly compliments this aesthetic. Its baton indexes are smart, professional, and allow the case to do the talking. If it is the proportions of the Datejust II that have caught your eye, but you're less a fan of the experimental displays, this is the one for you.
The Rolex Datejust II 116300 with a white dial represents an attractive entry-point for the Datejust II collection and it is generally less expensive than its fluted bezel siblings. While you can find reference 116300 watches fitted with dials that have Roman numeral markers, it is the classic baton index versions that arguably best compliment the clean and simple lines of this reference's smooth bezel and 41mm Oyster case.
Rolex Datejust II 116334 – Diamond Dial
For those looking for something with a little bit more shine and sparkle, the reference 116334 with a diamond-set dial might be the best bet. Crafted entirely from white metals, it is a bit more understated than the two-tone models,  and a sunburst slate finish softens the diamonds' brightness just enough to make this luxury-oriented rendition of the Datejust II a potential daily wear.
The Rolex Datejust II 116334 also brings the added flair of a white gold fluted bezel into the equation. For anyone that cannot imagine a Datejust with anything but the classic fluted bezel, this is a nice touch that connects this larger and modern watch to its history. The Datejust II was short-lived but this was largely due to the fact that it was just a bit too ahead of its time. Only now after it has been discontinued for several years is it starting to experience the appreciation that was missing upon its initial launch, and the model can be found with a variety of unique dials that do not exist on any other Rolex watches.