Ever since he first appeared on the silver screen in 1962's Dr. No, James Bond has always donned an impressive selection of luxury watches. Rolex holds claim to being the first James Bond watch, but that title has since been passed to Omega, who has been the exclusive watch of Agent 007 since 1995. As the story goes, costume designer Lindy Hemming knew that the only watch worthy of Bond's wrist in 1995's Goldeneye was the blue dial Omega Seamaster and James Bond has worn some form of Seamaster watch ever since.
The Seamaster lineup is quite varied, featuring numerous sub-collections that range from robust tool watches to classier dress watches and vintage-inspired timepieces. Some examples include the Planet Ocean, Aqua Terra, Diver 300M, and Railmaster. When it comes to saving the world, Bond has his pick of some seriously impressive wristwatches that are durable enough to withstand plunges in the ocean and quick escapes from exploding buildings, yet also look quite dashing tucked under the sleeve of his perfectly tailored tux.
This guide will cover the Omega Seamaster watches worn by James Bond, starting with 1995's Goldeneye and ending with the most recent installment of the series, No Time to Die. Also included within this guide are various 007 tribute watches developed by Omega and not featured anywhere in the films. Join us as we explore the various Omega watches that have been worn by the world's most daring secret service agent.
The Omega Seamaster Collection
Seamaster Sub-Collections
Seamaster Diver 300M
Aqua Terra 150M
Planet Ocean 600M
Seamaster 300
Ploprof 1200M
Railmaster
Bullhead Chronograph
Olympics Editions
City Editions
Seamaster 1948
Click here for our Ultimate Buying Guide on the Omega Seamaster.
James Bond Omega Watches Timeline
Ever since James Bond first strapped on an Omega watch in the mid-1990s, Agent 007 has always worn some form of Seamaster. While the models spotted on his wrist have ranged from refined Aqua Terra references to utilitarian iterations of the Planet Ocean, James Bond has been wearing Omega Seamaster watches for more than a quarter of a century.
Goldeneye (1995)
The first "Bond Seamaster" made its appearance on Pierce Brosnan's wrist in Goldeneye. The watch was a blue wave dial Seamaster Professional powered by a quartz movement with a sapphire crystal, and it was the first of many Seamaster iterations featured in 007 films since the mid-90s. Of course, the watch was also equipped with everything Brosnan's portrayal of Bond needed to save the world, including a built-in detonator inside the helium escape valve and a cool laser-shooting bezel, activated by the watch's screw in crown.
Tomorrow Never Dies (1997), The World is Not Enough (1999), and Die Another Day (2002)
Pierce Brosnan wore a similar Seamaster Professional for his reprisal of Bond in 1997's Tomorrow Never Dies, featuring the same blue wave dial but touting an upgraded automatic movement instead of a quartz one like in the previous film. Once again, Agent 007's Seamaster wasn't any ordinary timepiece. It was outfitted with world-saving gadgets by Q Branch, including a mechanism that allowed him to remotely dentate hand grenades.
The blue wave dial Seamaster Professional ref. 2531.80 made an appearance on Pierce Brosnan's wrist again in the 1999 film The World is Not Enough. While everything about the watch remains the same, from the blue dial and all-steel finish to the automatic movement hard at work inside the case, the biggest difference between the 1997 version and the watch worn in this film is the secret service agent amenities included inside it. Bond's Seamaster also doubles as a flashlight and features a handy grappling hook, which he activates by pressing the helium escape valve.
In Pierce Brosnan's final appearance as James Bond in Die Another Day, he is betrayed by his fellow agents. In yet another grueling mission to save the world from an evil plot, we see him donning his trusty blue dial Seamaster Professional ref. 2531.80, complete with agent gadgetry. By pressing the dial, Bond activates a laser from inside the crown. His watch also features a detonator pin in place of the helium escape valve.
Casino Royale (2006)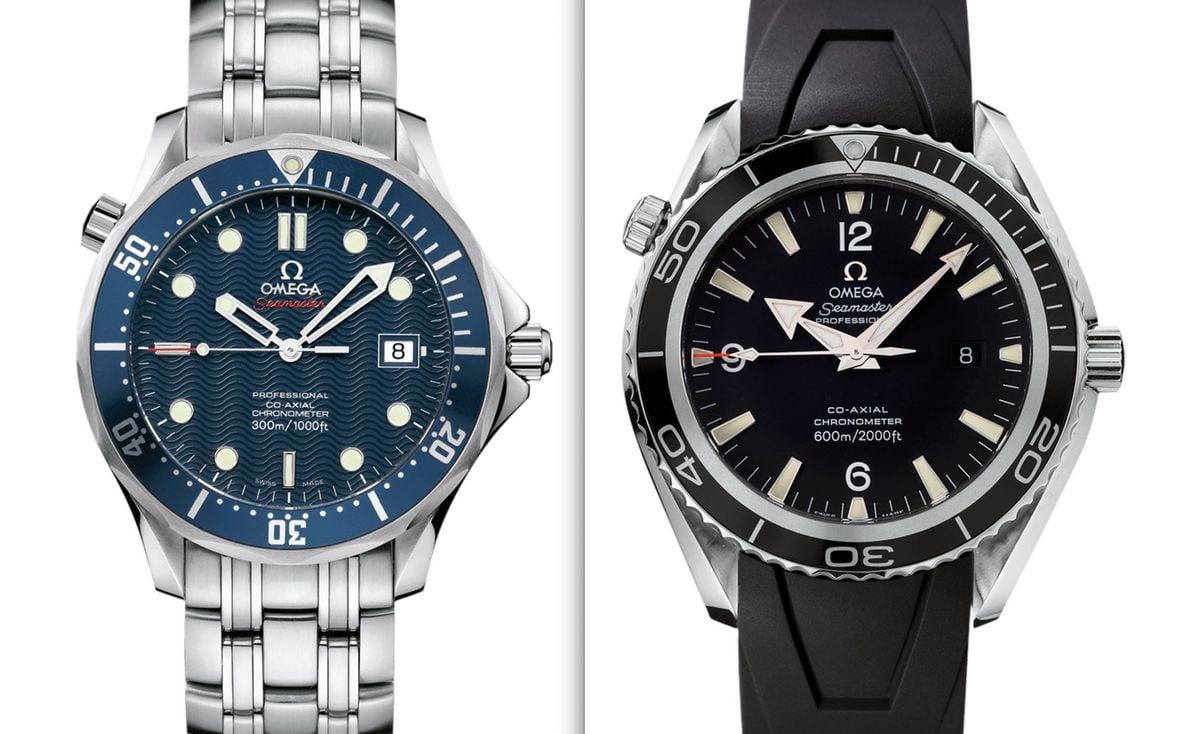 In 2006, Pierce Brosnan retired from the coveted role of James Bond, making way for a new leading man: Daniel Craig. In his 007 debut, Craig takes on the part of James Bond in the Film Casino Royale with both a blue wave dial Seamaster Diver 300M Co Axial and the rubber strap Planet Ocean on his wrist. Although Bond sports two different Omega Seamaster watches in this film, neither features any additional spy features like those seen in the previous movies.
Quantum of Solace (2008)
In Quantum of Solace, Bond attempts to foil bad guy Dominic Greene's plot to control precious water resources. His trusted companion during this quest? A robust 42mm Seamaster Planet Ocean with water-resistance up to 600 meters/2,000 feet and a chronometer-rated cal. 2500 self-winding movement. Again, Agent 007's Omega Seamaster does not feature any additional spy gadgets, although it does receive plenty of screen-time throughout the film.
Skyfall (2012)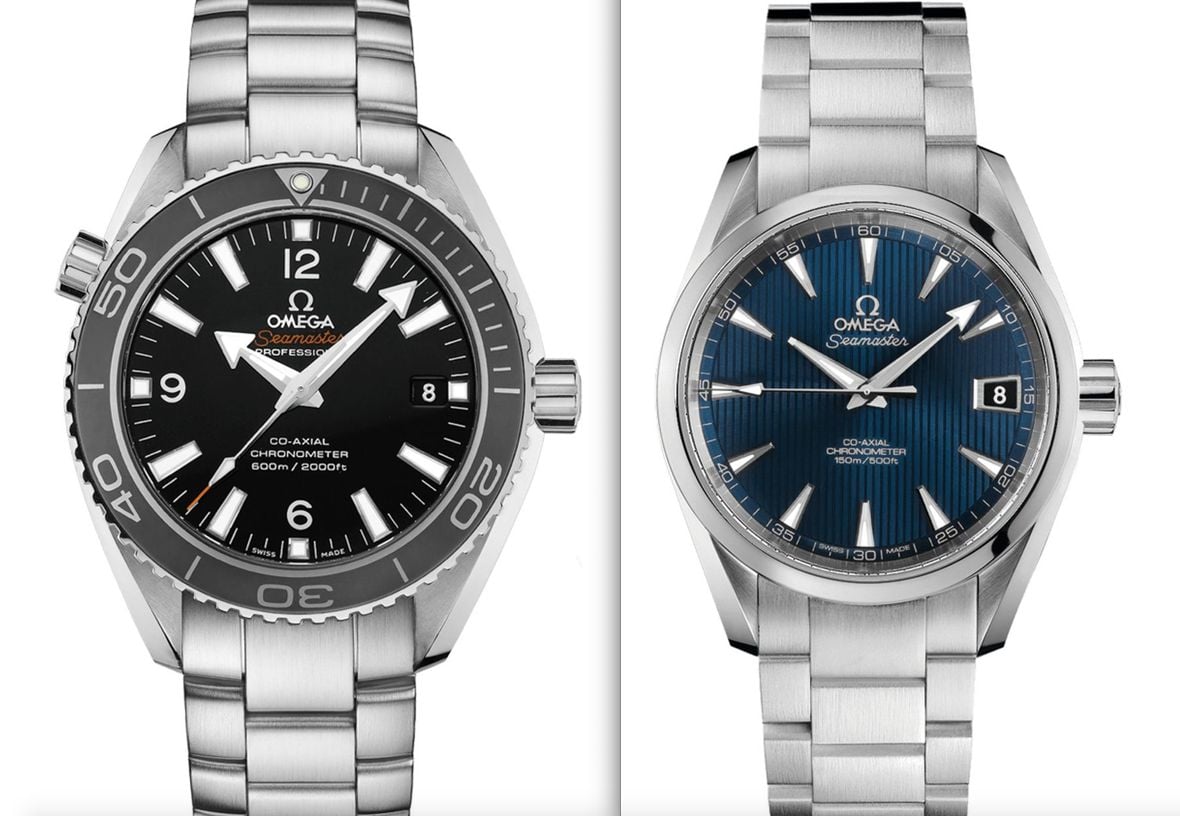 On Bond's wrist in this action-packed film are the Seamaster Planet Ocean 600M and a classic Seamaster Aqua Terra. With water resistance up to 600M and 150M (respectively), both watches can survive nearly every sticky situation Bond may encounter, whether he's plunging from a train into the waters below or chasing other spies. The exact Planet Ocean Bond wore in the film (a unique piece crafted from titanium) made another appearance at Christie's, where it was auctioned during the company's 50 Years of Bond event.
Spectre (2015)
Two Omega watches adorn Bond's wrist in Spectre: a limited edition of the Seamaster worn on a black and grey NATO strap featuring a 12-hour bezel and a striking lollipop seconds hand, and another Aqua Terra 150M. For the first time in the 007 franchise, an Omega watch worn by Bond himself has been released as a limited edition series. The Spectre Seamaster 300 was produced in quantities of just 7,007 watches and it is a true collector's item coveted by film buffs and horology enthusiasts alike. Spectre is also the first instance of added gadgetry on an Omega worn by Daniel Craig. His version of the limited edition ref. 233.32.41.21.01.001 also includes an explosive device.
No Time to Die (2021)
In the most recent installment of the James Bond saga, which is slated to release near the end of 2021 (after a series of delays due to COVID-19), we will see our favorite secret service agent search the globe for a kidnapped scientist. The watch that will be spotted on Daniel Craig's wrist during his final portrayal of Bond is a titanium edition of the Seamaster Diver 300M. It boasts the distinction of a Master Chronometer and resilient grade 2 titanium, the perfect timepiece for outsmarting a strange new villain. Additionally, the watch itself is powered by Omega's Co Axial Master Chronometer Calibre 8806 movement, which is antimagnetic and offers a new power reserve of 55 hours. Craig himself helped design this edition of the Seamaster and the watch features case-back markings consistent with genuine military issue watches, a vintage-inspired tropical brown dial, colored lume on both the bezel ring and hour markers, and a titanium mesh bracelet with an innovative adjustable buckle, making it even more special to collector's in-the-know.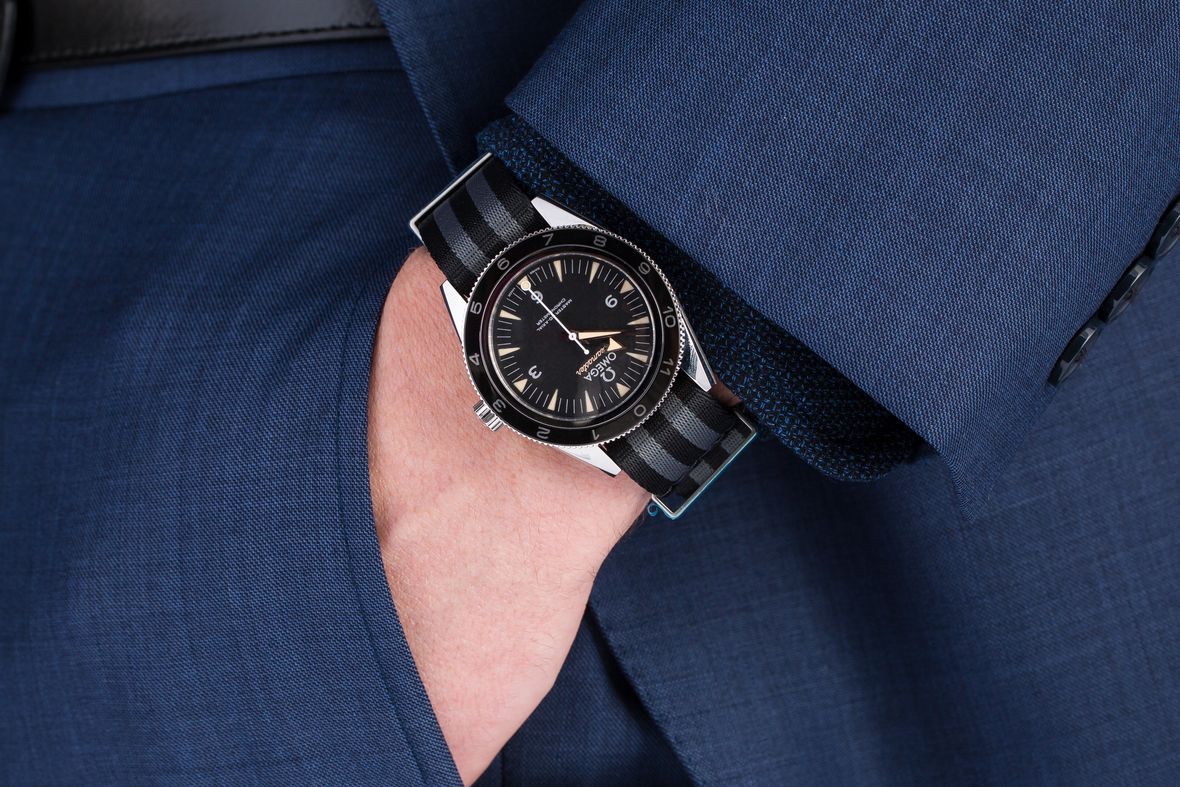 James Bond Omega Tribute Watches
In the years since the 1995 start of Omega's partnership with the James Bond franchise, the iconic watch house has produced numerous stand-out 007 editions of the Seamaster. Each reference aims to celebrate its long-standing relationship with the International Man of Mystery with various design elements inspired by the films. Below is a list of tribute 007 Seamaster watches that were released to celebrate James Bond but never appeared on the big screen.
Omega Seamaster 007 Limited Edition: On Her Majesty's Secret Service
Omega released the limited edition Seamaster ref. 210.22.42.20.01.004 as a tribute to the 1969 film On Her Majesty's Secret Service, even though Bond was only portrayed in the movie wearing a Rolex on his wrist. The film marks George Lazenby's first and only role as Agent 007 and the end of the Sean Connery era. The limited-edition Omega was produced in quantities of just 7,007 pieces and features a laser-engraved ceramic dial decorated with the 007 gun barrel motif, a ceramic bezel topped with a white enamel diving scale, and the Co Axial escapement equipped Cal. 8800 movement. The Bond family's coat of arms is present at the 12-hour marker, and the number 50 is hidden within the lume at the 10-hour marker.
Numbered Edition Platinum-Gold Omega Seamaster Diver 300M
The Omega Seamaster reference 210.93.42.20.01.001 in platinum-gold is a variation of the tribute watch released in 2019 to celebrate the 50th anniversary of the Bond film On Her Majesty's Secret Service. It keeps the same 42mm diameter and hidden number 50 disguised within the lume at the 10-hour marker while also adding a tiny 007 logo in the minute track at 7 o'clock. It ditches the date mechanism seen on the 50th-anniversary edition, opting for a time-only dial and the cal. 8807 movement. Its design set also includes a black enamel gun barrel dial and ceramic bezel topped with platinum positive relief graduations. The platinum-gold edition is numbered, rather than a limited edition watch like its 50th-anniversary predecessor, and watches are delivered in special 007-edition boxes.
Omega Seamaster Diver 300M "Commander's Watch"
The James Bond Omega Seamaster Diver 300 Commander's Watch is presented in the Royal Navy's ensign colors, featuring a colorful red, blue, and grey NATO strap, a white ceramic dial topped with blue skeleton hands and a red "007" seconds hand, and a red and blue bezel. The watch is decorated with Bond film references, including a 007 logo counterweight on the seconds hand and a rotor embellished with a 9mm bullet and 007 logo.
Omega Seamaster Aqua Terra 150M
Omega released this striking edition of the Aqua Terra decorated with the Bond family coat-of-arms for the film Spectre. It is a limited edition Omega produced in a quantity of 15,007 pieces, which combines agent 007's number with the watch's level of magnetic protection. References to James Bond are scattered throughout the watch, as seen with the interlocked Bond coat-of-arms on the dial and on the tip of the yellow seconds hand. The case features an exhibition case back, giving the wearer a view of the gun barrel-shaped oscillating weight and bullet-inspired rotor, another nod towards the famous secret service agent.
Omega Seamaster Diver 300M 007 Edition
This edition of the Seamaster combines Bond's affinity for the blue dial Seamaster Diver 300M with striking 007 references. The blue dial features a mesmerizing etched gun barrel design and a 007 counterweight on the seconds hand. Like the Seamaster Diver 300M worn by Pierce Brosnan in every film after Goldeneye, the ref. 2226.80.00 is powered by an automatic movement with a chronometer rating.
Omega Seamaster Planet Ocean Big Size
The Planet Ocean worn on Bond's wrist in Casino Royale is reimagined with the limited edition ref. 2907.50.91. The seconds hand counterweight features a striking orange 007 logo, and the case back is decorated with the Casino Royale logo and limited edition number xxxx/5007. The Planet Ocean Big Size also features a robust case measuring 45.5mm in diameter, a versatile rubber strap, and a chronometer-rated automatic movement.
Omega Seamaster Planet Ocean 600M: Quantum of Solace
Daniel Craig was the first Bond actor to wear an Omega Planet Ocean on his wrist, as seen in the opening sequence of Casino Royale. The brand released a 007 edition just in time to celebrate the next film in the franchise, Quantum of Solace, with the limited edition reference 222.30.46.20.01.001. It's an intriguing take on the famed professional diver that even the most experienced naval commander would love, featuring the Quantum of Solace logo just below the central hands, a striking textured dial, and a case back emblazoned with the 007 logo and the limited edition number xxxx/5007.
Omega Seamaster Diver 300M: James Bond Omega Watch 50th Anniversary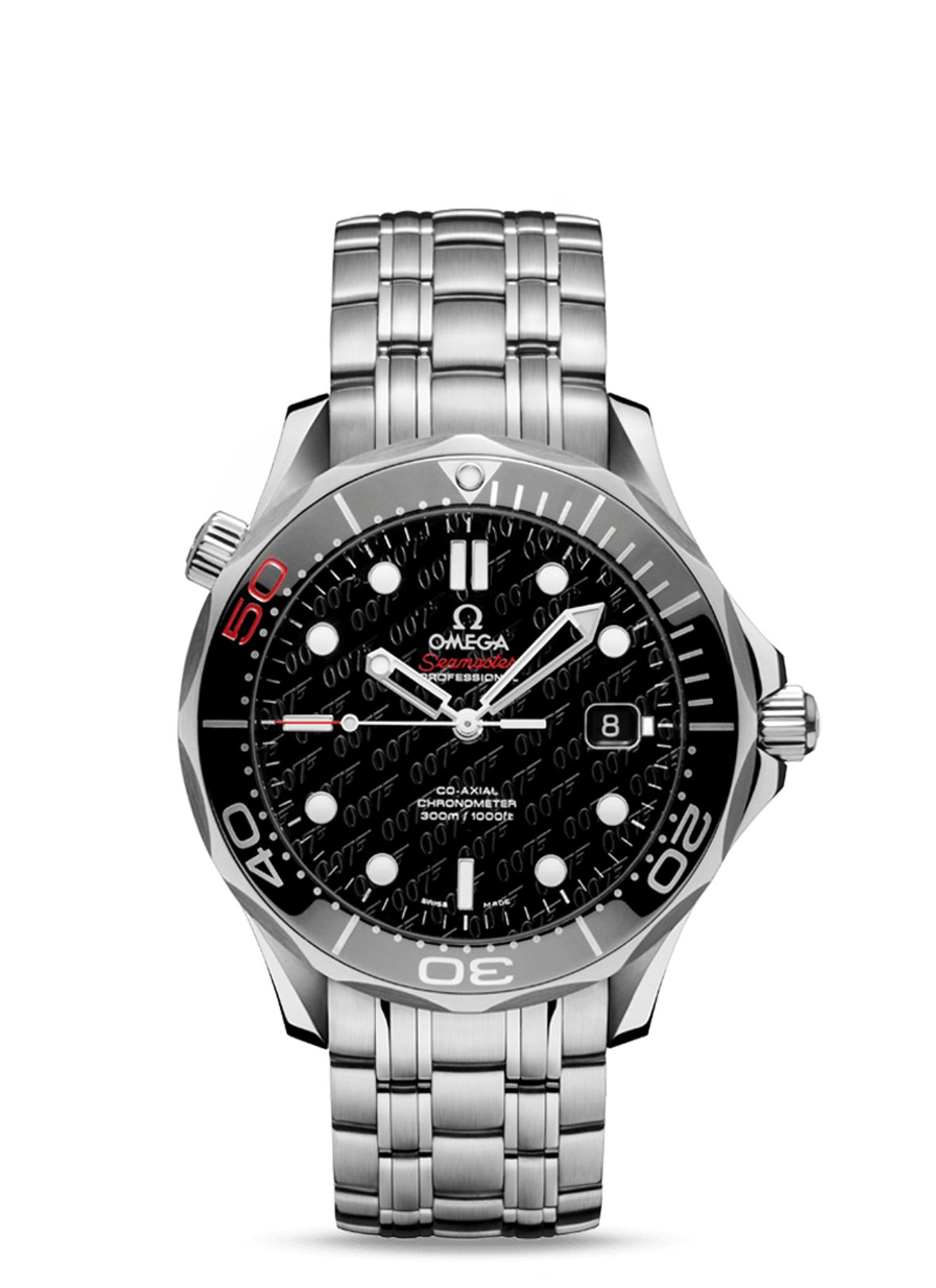 The 41mm Seamaster Diver 300M reference 212.30.41.20.01.005 celebrates 50 years of watching James Bond save the world from evil spies and other imminent danger. The limited-edition James Bond Omega was produced in a quantity of 11,007 examples and is decorated with numerous references to Agent 007 himself. The dial features a diagonal 007 motif, the 50 marker on the bezel is presented in striking red, and the case back is stamped with a spiral gun barrel design with a bullet-motif rotor at its center.
Omega Seamaster Diver 300M: James Bond Omega Watch 50th Anniversary
The Seamaster Diver 300M reference 212.30.36.20.51.001 also pays tribute to the 50th anniversary of the James Bond series, but with a 36.25mm case option. Like the 41mm edition, this Seamaster dive watch features a 007 motif dial, red "50" on the bezel, and gun barrel-inspired case back. The limited-edition watch was produced in a quantity of just 3,007 pieces.
James Bond Omega Seamaster 300M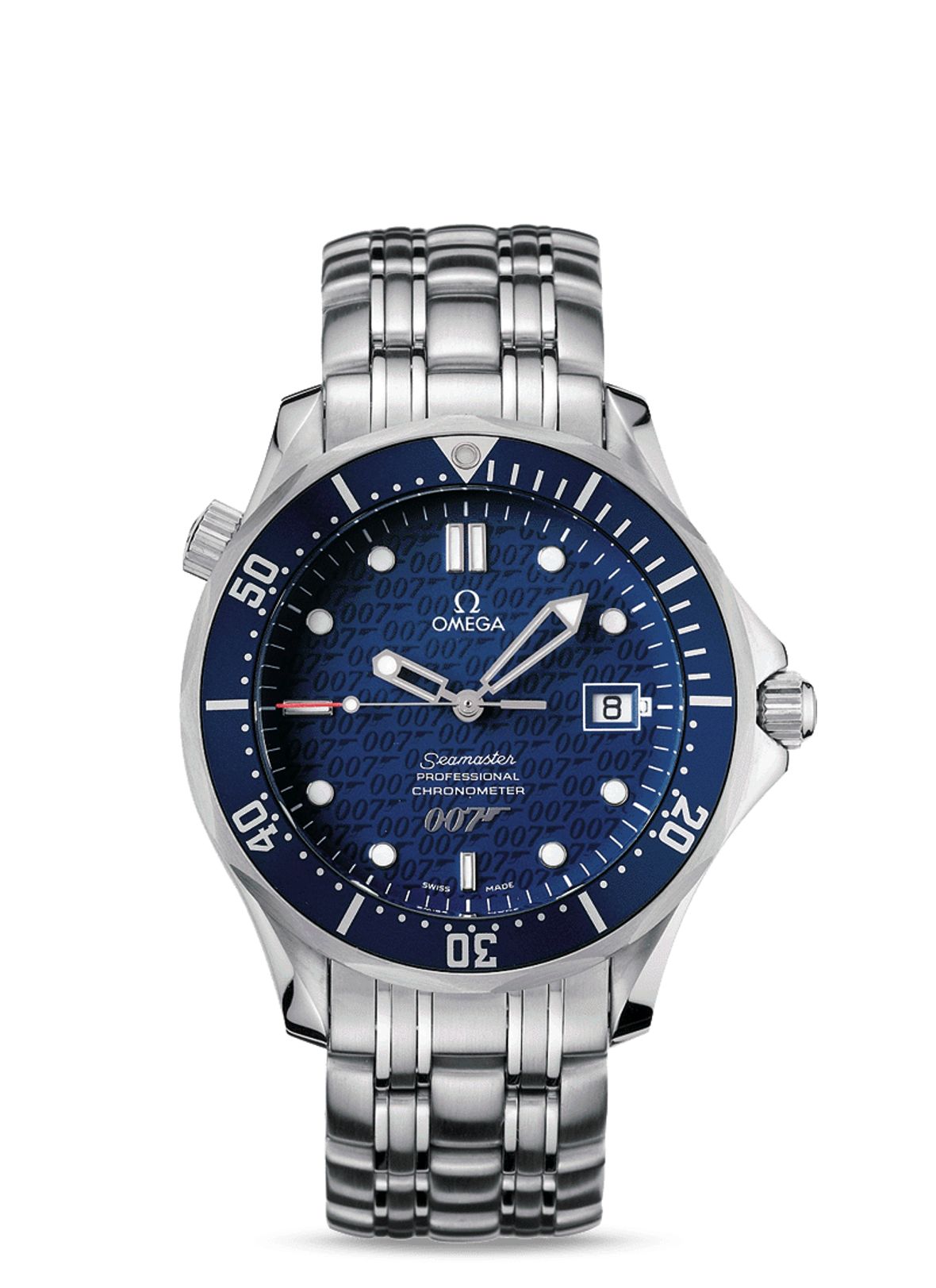 We round out our list of 007 tribute Omega watches with another one of Bond's favorite watches, the blue dial Seamaster. The reference 2537.80.00 swaps the traditional wave dial motif with a repeated 007 logo design. The 007 logo is also present just above the 6-hour marker in contrasting silver. The limited-edition watch celebrates 40 years of the franchise with a gun barrel-stamped case back and numbered distinction xxxxx/10007.
As you can see, Omega's partnership with James Bond is storied, featuring numerous striking editions of the Seamaster and its various sub-models, from classic blue dial Seamaster references to (more recently) a titanium edition of the Seamaster Diver 300M that was designed in part by Daniel Craig himself. With No Time to Die slated to be Craig's final portrayal of James Bond, we wait with bated breath to see what other Omega watches will be spotted during the much-anticipated upcoming film.
* Images courtesy of OMEGA.