Explore History, Top Models, Pricing & More
If you're in the market for a Rolex Daytona, then you've come to the right place. This luxurious, exclusive sports watch is one of the most desirable on the planet and because of that, it's incredibly difficult to get your hands on one at a retail level. Buying a Rolex Daytona is not an everyday purchase, and we firmly believe that the best kind of buyer is an educated buyer.
Follow along as we explore this iconic watch, worn by countless professional athletes, musicians, and A-list celebrities around the globe.
Rolex Daytona: An Overview
First launched in 1963 as a sports watch intended for the race track, the Rolex Daytona is one of the world's single most famous luxury watches. But, that wasn't always the case. Initially, it was widely unpopular and some iterations were even considered unsightly for many years.
This changed when actor and race car driver Paul Newman began wearing one of these sport watches. Famously, Paul Newman's very own Rolex Daytona sold for $17.8 million at a 2017 auction, making it the most expensive Rolex watch ever sold.
The Rolex Daytona has seen some changes and upgrades over its 50+ years of production, including upgrading from a manual movement to an automatic in 1988, and refreshing its design with a larger 40mm diameter, sub-dials, and contrasting timing tracks to enhance design and functionality.
Today, Rolex produces as many as 40,000 Rolex Daytonas and there's an ongoing wait list. That's why so many buyers turn to the secondary market to shop for one of these legendary watches.
Key Features & Innovations
Over the years, the Rolex Daytona has undergone numerous changes and incorporated key features that make this racing watch stand out amongst its peers. For example, when this watch was first launched, it featured a manual movement, which was upgraded to automatic in the late 1980s.
Here, we're outlining all of the key features you need to know about Rolex Daytona watches.
Materials – All Rolex Daytonas, regardless of age, are available in steel, 14k gold, and 18k gold. Over time, the materials were including Rolesor, platinum, and their proprietary Everose.
Bezels – With one exception – the premium gem-set versions –Daytona bezels feature a tachymeter scale. Initially only offered in stainless steel or gold, now collectors can find black acrylic, cerachrom, and brown cerachrom.
Dials – Early Daytona watches featured white, black, silver, or champagne (gold) colored dials. Later iterations feature more colors and materials, including lapis lazuli and mother-of-pearl, on the dial and sub-dials.
Bracelets – Most Daytona models are sold on Oyster bracelets that match the cases's alloy. Some 18k gold references feature either alligator leather straps or Oysterflex bracelets with matching 18k gold folding clasps.
*It's important to note currently all Rolex leather strap models are discontinued, so be aware of this when shopping for a Rolex Daytona with a leather strap.
Movements – The first generation of Daytona watches featured a manual movement with three different Valjoux calibers. With the second generation, the automatic Zenith El Primero Caliber 3019PHC was used. And, with the final iteration of the Rolex Daytona, it was the automatic Rolex in-house caliber 4130.
Important Information & Terminology
Many of the key features listed above can help when shopping for a Rolex Daytona. Being familiar with the history of the Daytona collection, as well as what features became available when, will help you determine the legitimacy of sellers on the secondary market.
Be aware the some merchants may misrepresent a watch to make a sale. By being knowledgeable about the history of the collection, you can spot minor details and misrepresentations that an amateur seller might list.
In addition to knowing about the collection through and through, it's also important to know overall watch terms, as well as specific Rolex terminology.
Here are a few general terms used in timekeeping that are particularly relevant to wristwatches:
Quartz. In the world of horology, quartz refers to a battery operated watch that doen't have to be manually wound and isn't reliant on kinetic energy.
Pepsi or Coke Bezel. While Rolex may have coined these nicknames with the release of the GMT Master Pepsi and GMT Master II Coke, today numerous watch brands feature iterations of these two-toned bezels.
Face. The dial of a watch is also called the face. Both terms are acceptable and used interchangeably.
While you can browse the full Rolex glossary, here are a few that are specific to the brand:
Bubble back. This term refers to the case back on early Rolex models, which would bubble out rather than feature a flat back.
Rolesor. Patented Rolex term for two-tone watches that feature stainless steel and yellow gold.
Luminova. The luminous material for hands and hour markers on all dials after 1998. Superluminova is virtually the same.
Price Range for the Rolex Daytona
Today, the retail prices for Rolex Daytona watches continue to increase for the standard 904L stainless steel and ceramic model. However, the price of a retail Daytona can sharply increase based on the use of precious alloys, diamonds or gemstones.
Additionally, it's incredibly important to note that because all Rolex Daytona watches are perpetually sold-out at a retail level, second-hand prices are often significantly higher than their original values. The prices listed below represent the typical pre-owned prices found on Bob's Watches.
| | | | | |
| --- | --- | --- | --- | --- |
| Model | Retail Price | Second-Hand Price | Materials | Features |
| Paul Newman's Daytona, Ref. 6239 | N/A | 17.75 million dollars | Stainless Steel | Most expensive Rolex Daytona |
| Ref. 116500LN | $14,550 USD | from $28,000 | Stainless Steel | Ceramic bezel |
| Ref. 116503 | $17,950 USD | from $23,500 | Stainless Steel + Gold | Two-Tone |
| Ref. 116508 | $37,550 USD | from $68,550 | Yellow Gold | Gold bezel and Oyster bracelet |
| Ref. 116509 | $40,450 USD | from $55,550 | White Gold | Gold bezel and Oyster bracelet |
| Ref. 116505 | $46,700 USD | from $70,500 | Everose Gold | Diamond dial |
| Ref. 116519LN | $30,500 USD | from $45,000 | White Gold | Ceramic bezel and Oysterflex bracelet |
| Ref. 116518LN | $29,200 USD | from $45,000 | Yellow Gold | Ceramic bezel and Oysterflex bracelet |
| Ref. 116506 | $75,000 USD | from $160,500 | Platinum | Ice Blue dial and brown ceramic bezel |
The First Generation of Rolex Daytonas
The first generation of Rolex Daytona watches was produced between 1963 and 1988 and only features reference numbers that are four digits, such as the ref. 6239 stainless steel pictured below.
All of these first-generation reference models have the following features:
Smaller case. These early edition Daytonas have a smaller, 37mm case.
Manual movement. Pre-1988 Daytonas had manual-wind, Valjoux movements.
Acrylic crystals. While later generations feature a type of crystal, earlier references feature acrylic crystals on the case.
It was during the first generation that advancements like screw-down pushers were made available, which significantly improved the overall reliability and water-resistance.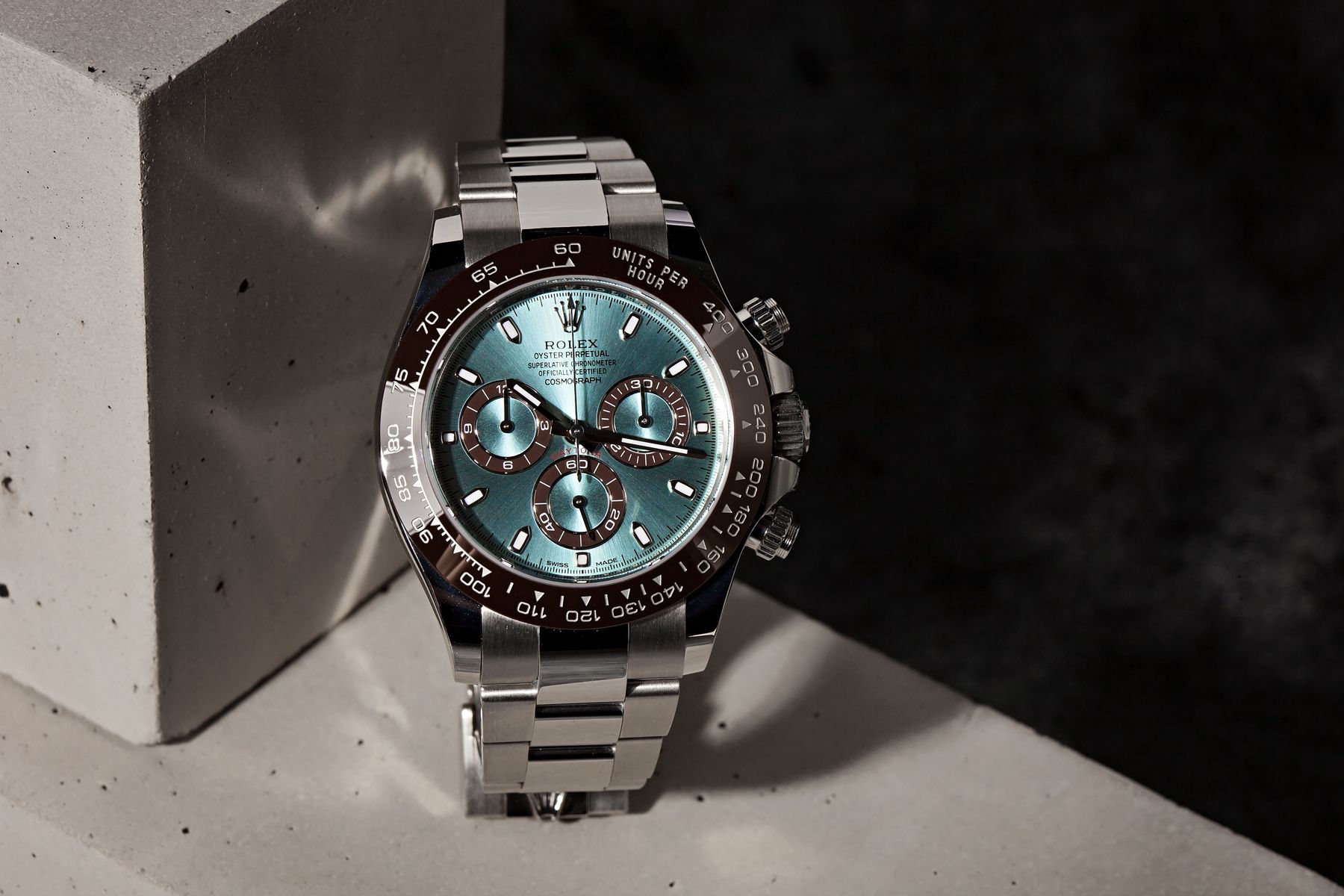 The Second Generation of Rolex Daytonas
The second-generation of Rolex Daytona watches marked the arrival of self-winding movements and were produced between 1988 and 2000. These models are also known as the "Zenith Daytona" and always feature a five-digit reference number.
Here is how Rolex improved on the original Daytona design during that time:
Crown-guards. Rolex added crown-guards to the Daytona case, making it a bigger 40mm case.
Synthetic crystal. Second-generation Daytona watches also featured a synthetic sapphire crystal instead of an acrylic crystal on top of the dial.
Automatic movement. The biggest change was the switch to an automatic movement, creating the Rolex Oyster Perpetual Cosmograph Daytona (like this ref. 16528).
By 1988, Paul Newman had already helped propel the Rolex Daytona into the spotlight. The manual movement had been the only real drawback to this highly coveted watch, so when the movement was swapped for an automatic one, this watch was all but perfect to Rolex enthusiasts.
However, Rolex still saw room for improvement and by the year 2000, launched the third generation of Rolex Daytonas.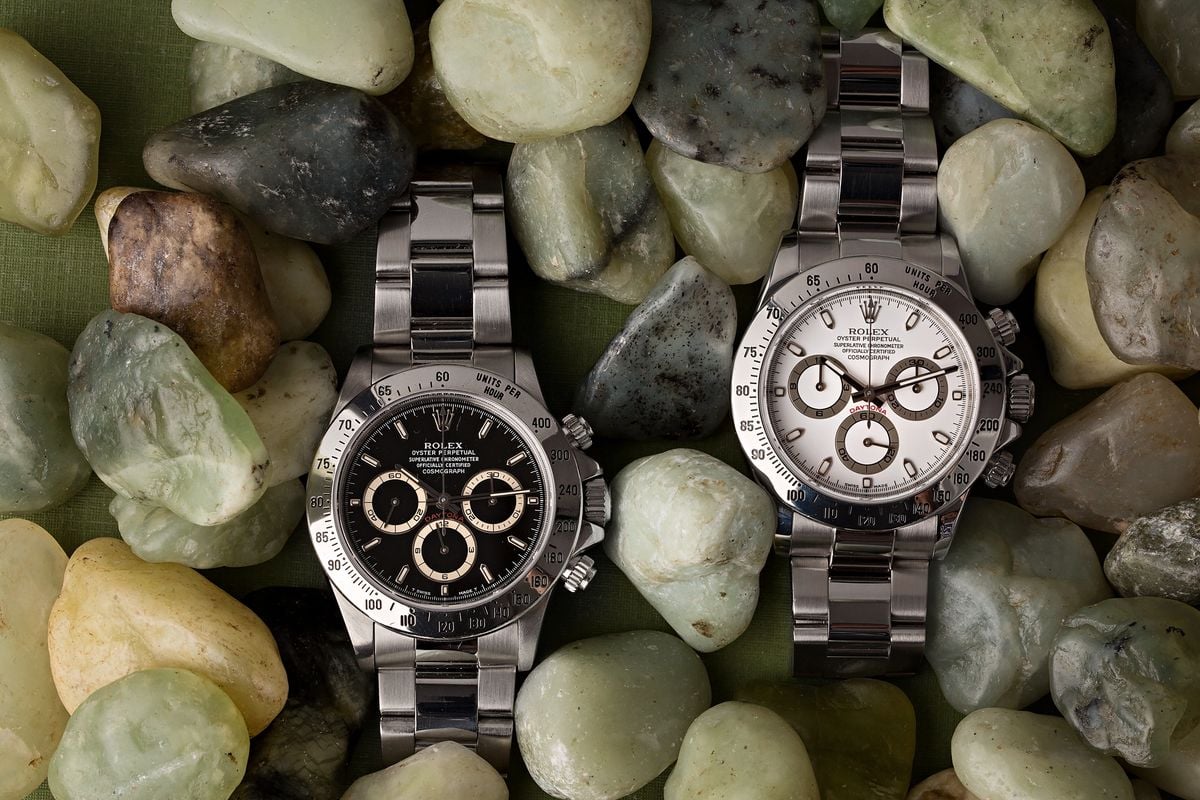 The Third Generation of Rolex Daytonas
The latest iteration features some of the biggest upgrades to date, which has only increased the value of these luxury sport watches. While Rolex Daytonas today retain many of the same core design traits that were first introduced with the second generation, you can always tell this watch apart by its six-digit reference number and the features below:
In-house chronograph. In 2000 the Rolex Daytona featured the first in-house chronograph.
Cosmetic changes. Because of this latest advancement, the running seconds indication moved from the 9 o'clock location to the 6 o'clock position.
Over the years, Rolex Daytonas have become stylish as well as functional, as evidenced by the Rolex Daytona ref. 116520 pictured below. Today they are rare, expensive, and still a valuable asset to racers (and collectors) around the globe.
Top 4 Rolex Daytona References
A Rolex Daytona isn't simply a sports watch that is only utilitarian in nature – at least not today. While its debut in 1968 may have been lackluster, this watch collection was propelled to stardom and has become synonymous with fame and bold fashion.
These four Daytonas are beloved by celebrities and can often be spotted courtside or during performances – and up until 2008 at least, on the wrist of the man that made the collection famous: Paul Newman.
Rolex Daytona ref. 116520
This white dial Rolex Daytona was manufactured in 2007 – 2008 and is in excellent condition. If you're looking for a newer, striking Rolex Daytona, the stainless steel metal paired with the white dial is designed to stand out regardless if it's worn to race or to impress.
This ref. 116520 comes in a Bob's presentation box and is backed by our one-year warranty.
Key Features:
40mm stainless steel case
Automatic 4130 movement
Stainless steel tachymeter bezel
Scratch-resistant sapphire crystal
Stainless steel Oyster bracelet with Oysterlock clasp
Price:
Collectors looking to take home this striking luxury watch have a wide range of prices to choose from. On the secondary market, expect to pay anywhere from $20,000 to $40,000 USD.
Rolex Daytona ref. 116528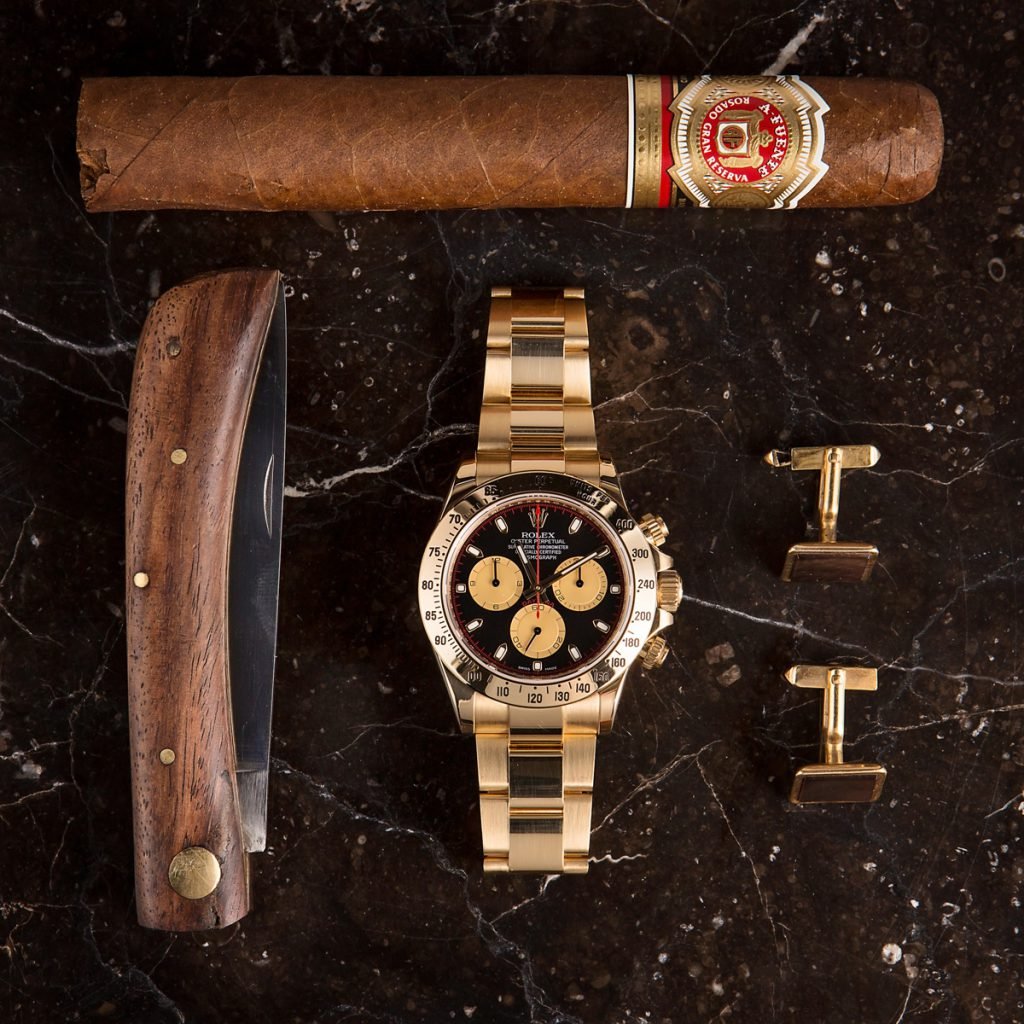 This 2007 – 2008 all-gold edition of the coveted Rolex Daytona Cosmograph makes a beautiful addition to any collection. This timepiece is in excellent condition and will instantly enhance your collection. Whether you keep it boxed and admire it, or wear it out for the world to enjoy, this watch makes a bold statement.
This ref. 116528 comes in a Bob's presentation box and is backed by our one-year warranty.
Key Features:
40mm gold case
Automatic 4130 movement
Gold tachymeter bezel
Scratch-resistant sapphire crystal
18k yellow gold Oyster bracelet with Oysterclasp
Price:
This Daytona has a slightly higher price point than the ref. 116520. Collectors should be prepared to pay between $40,000 to over $60,000 USD for one of these exquisite watches.
Rolex Daytona ref. 116515
Whether dressed up for the evening or dressed down for the track, this black and Everose gold reference is designed to be an impressive timepiece. We love that it is the perfect, balanced blend of style and function without sacrificing either.
This ref. 116515 comes in a Bob's presentation box and is backed by our one-year warranty.
Key Features:
40mm Everose gold case
Automatic 4130 movement
Black Cerachrom tachymeter bezel
Scratch-resistant sapphire crystal
Rolex Oysterflex with Everose Oysterlock
Price:
The ref.116515 has a wide price range compared to some other Rolex Daytona references. Collectors can expect to pay anywhere between $30,000 USD and $200,000 USD. This largely depends on the condition and demand for the reference at the time.
Rolex Daytona, "Paul Newman"
When it comes to the Rolex Daytona, no list is complete without talking about the man that made the collection famous. There are actually a few different references that have the nickname Rolex Daytona Paul Newman including ref. 6239, ref. 6241, ref. 6262, ref. 6263, ref. 6264, and ref. 6265. And, each one of these are priceless in the eyes of many collectors.
Have one to sell? Numerous references have waitlists anxious to add a Paul Newman Daytona to their collection. Contact us today to sell yours.
Price:
Due to the overwhelming popularity of Paul Newman Rolex watches, collectors shouldn't expect to pay any less than $100,000 USD for one of these vintage timepieces.
Popular Rolex Daytona Models
Join our experts in exploring some of the Rolex Daytona's interesting history, movements, and other facts about this iconic watch collection.
Buying & Selling Rolex Daytona Watches
While certain contemporary Daytona models can be quite pricey, the most expensive Rolex Daytona watches aren't brand-new models, they're vintage references. That's why it's important to shop for the next addition to your collection with the experts who review, authenticate, and thoroughly inspect the watches before they are ever made available to you.
Learn More About Rolex
Rolex is undeniably the most popular watch brand in the world. Part of this is due to an excellent marketing strategy and their ability to generate demand for extremely rare wristwatches, while also making other watches within their family of timepieces obtainable. Their watches are also designed to stand up to a work hard, play hard mentality, and are overall durable timepieces. The purchase of a Rolex is, at the very least, a safe investment. If collectors luck out and get a timepiece that explodes in popularity, it's a very lucrative one.
Frequently Asked Questions About a Rolex Daytona
Is Rolex Daytona still hard to get?
If you're searching for a brand new Daytona – yes. Compared to other watches and even other Rolex collections, production is limited due to the complicated features of the racing watch. Because of this, collectors not on the years-long waiting list are able to find a Rolex Daytona on the pre-owned market, often in near-mint condition.
What happened to Paul Newman's Rolex?
The original Rolex Daytona ref. 6239 worm by Paul Newman was lost for years, but once it was recovered, it sold at auction for over $17 million USD at a Phillips auction. Watch footage from the auction.
Do Daytona winners get a Rolex?
At La Mans, only the overall winners receive a Rolex Daytona. At Daytona, however, class winners can take home one of these highly sought-after watches.