The Cellini is like the middle child of the Rolex family – it tends to go unnoticed. Though it may dwell in the shadow of big hitters like the Daytona and may not be as universally appealing as the Day-Date, the Rolex Cellini watch collection has cemented its place in the brand's catalog as its most creative and underrated model.
In contrast to the design consistency of Rolex Oyster watches, Rolex Cellini watches are incredibly diverse, featuring an expansive array of case shapes, bracelet designs, movement types, and material options. An emphasis on variety and avant-garde design rather than consistency may explain why the Cellini line never attained quite the same kind of success as Rolex's Oyster line – simply put, it can sometimes be difficult to immediately identify a Cellini as a Rolex watch.
However, to promote a greater understanding of this often overlooked but incredibly worthy timepiece range, we've compiled the ultimate buying guide on Rolex Cellini watches.
Rolex Cellini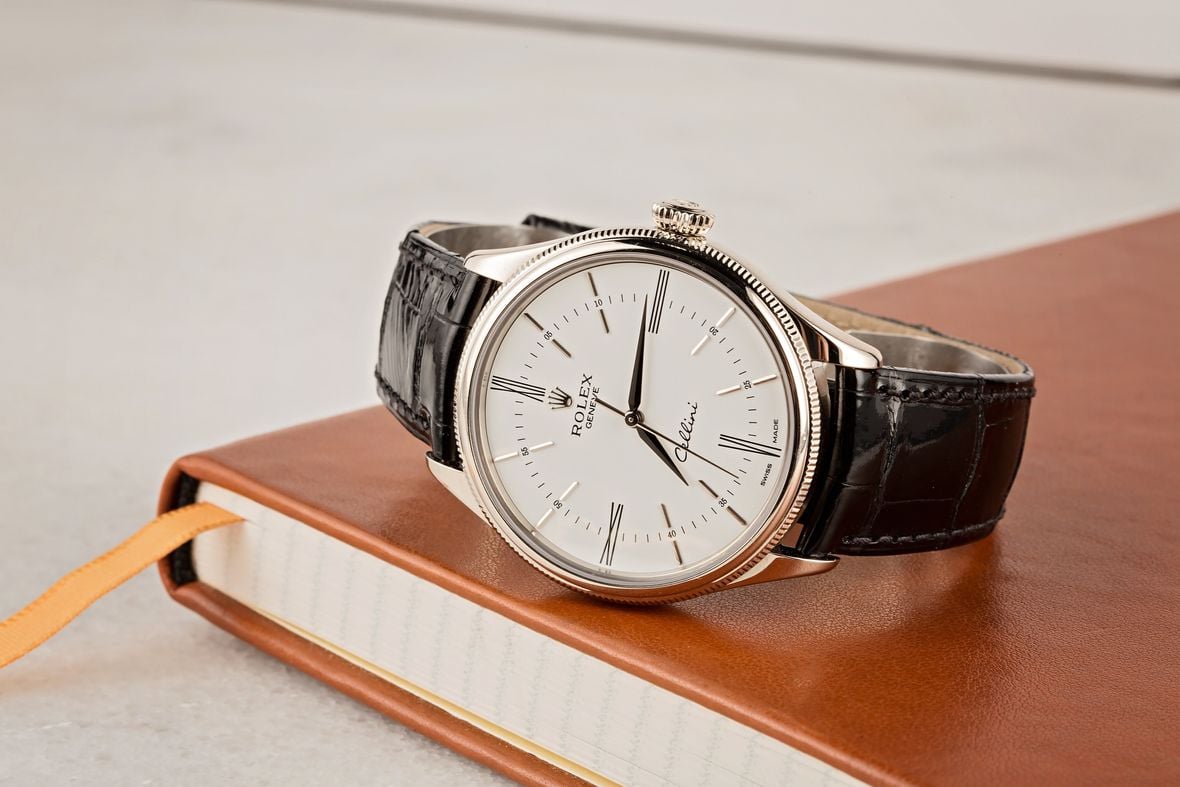 Cellini Collection Fast Facts:
– First introduced in 1968.
– Named after the Italian goldsmith and sculptor Benvenuto Cellini
– Rolex's dedicated line of dress watches.
– Only crafted from either solid gold or platinum.
– Can be powered by either quartz or mechanical movements.
– Historically has featured non-traditional case shapes.
– Does not use Rolex's Waterproof Oyster Case.
Click here to learn more about the history of the Rolex Cellini.
Rolex Cellini History
Introduced in 1968, the Rolex Cellini lineup has been home to the brand's non-Oyster dress watches. Rolex named the collection after the Florentine goldsmith, sculptor, and painter, Benvenuto Cellini, who was known for creating masterpieces during the Renaissance period that are still studied and celebrated today.
The first Cellini models were slim gold dress watches with time-only dials powered by manual-winding movements. They were markedly different from the robust Rolex Oyster watches of the era, which included models such as the Submariner, GMT-Master, Day-Date, Datejust, and Explorer. The "Oyster" designation in select Rolex watch models refers to its water-resistant Oyster case. Conversely, Cellini watches never had Oyster cases and were not built with water resistance in mind.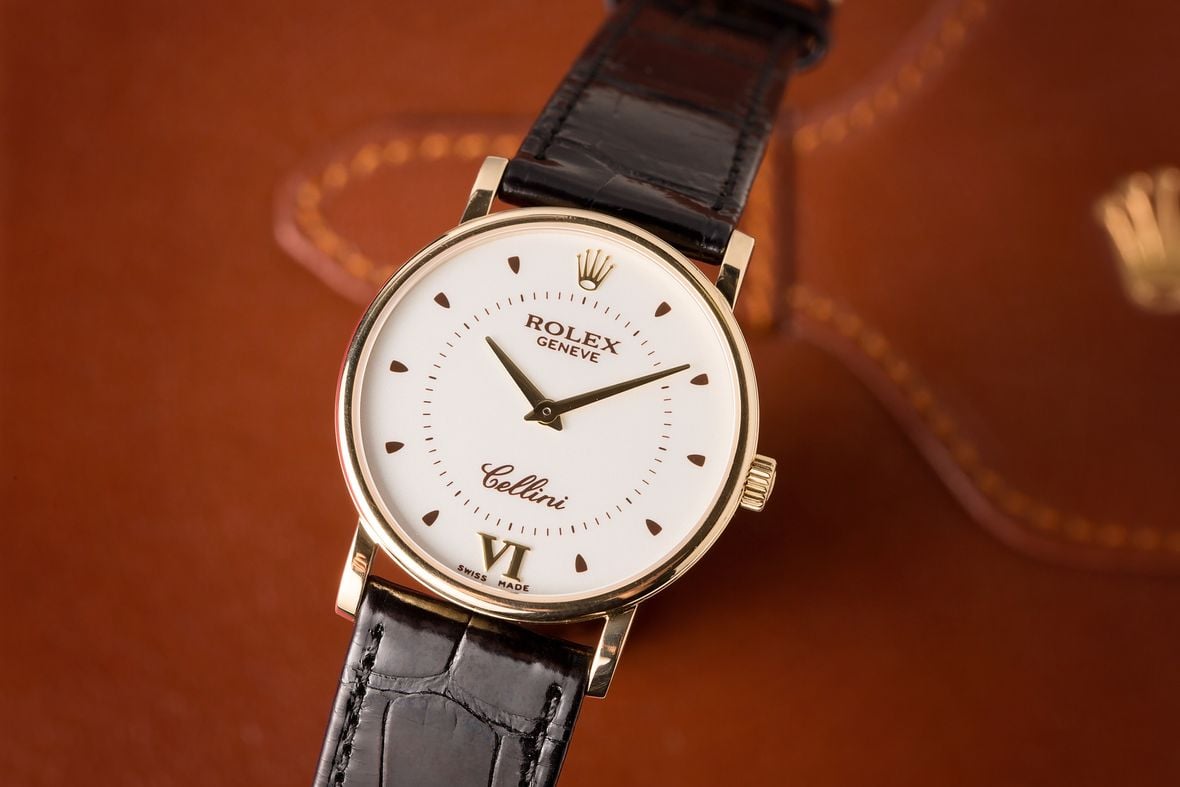 A Highly Diverse Collection
Over the following decades, Rolex expanded the Cellini line with a bevy of models ranging from the eight-sided Cellini Octagon and the asymmetrical Cellini Midas (modeled after the limited edition Rolex King Midas watch from the mid-1960s) to the cushion-shaped Danaos and Art Deco-inspired Prince. Regardless of the watch silhouette, all Rolex Cellini watches are made from precious metals – mostly frequently gold but sometimes platinum.
In 2014, Rolex took a page out of the Oyster collection playbook and redesigned the entire Cellini lineup to be more harmonious. Today, all current-production Cellini watches have 39mm cases, double-stepped bezels, flared winding crowns, and leather straps. Three years later, Rolex released its first moonphase watch since the 1950s in the form of the Cellini Moonphase reference 50535.
Rolex Cellini Timeline
1968 – Rolex introduces Cellini collection
1970s – Cellini Midas
1980s – Cellini Octagon
1990s – Cellini Danaos
1990s – Cellini Cestello
1990s – Ladies' Cellini Cellissima
2000s – Cellini Cellinium
2005 – Cellini Prince
2014 – Rolex revamps the entire Cellini line and introduces the Cellini Time, Cellini Date, Cellini Dual Time
2017 – Cellini Moonphase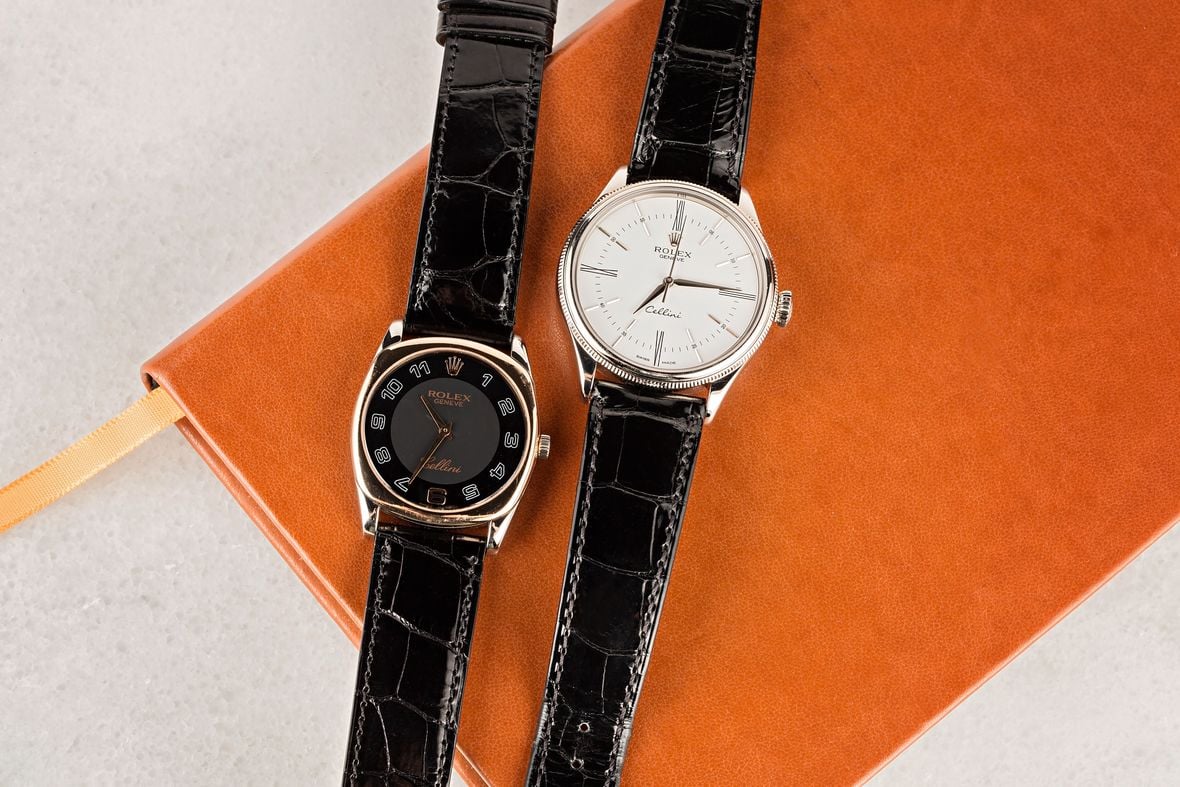 Current Rolex Cellini Models and References
After the standardization of the Cellini collection in 2014, all current-production Cellini watches now have the following features:
– Round 39mm cases in either 18k white gold or Everose gold
– Double bezels with smooth and fluted surfaces
– Flared screw-down winding crowns
– Rolex Genève and Cellini on the dials
– Sapphire crystals
– Fluted casebacks
– Leather straps with 18k white gold or Everose gold buckles
– Automatic movements (chronometer-certified w/ 48-hour power reserve)
– 50m water-resistance
There are currently four main Cellini models in Rolex's current catalog:
– Cellini Time – Hour, minute, and seconds
– Cellini Date – Hour, minute seconds, and date sub;-dial at 3 o'clock
– Cellini Dual Time – Two time zones, second time zone sub/-dial includes day/night indicator
– Cellini Moonphase – Hour minute, seconds, date, and moonphase indication
Rolex Cellini Time
The simplest modern Cellini watch is the Rolex Cellini Time, which as its name suggests, has a trio of hands on the dial to indicate the hour, minute, and seconds. There are two Cellini Time references: the Cellini Time ref. 50509 in 18k white gold and the Cellini Time ref. 50505 in 18k Everose gold. Each model is available with a brown or black leather strap and fitted with a buckle craft from the same metal as the case.
The Rolex Cellini Time is offered with either a white dial or a black dial, both featuring Roman oversized Roman numerals at the four poles alongside long baton-style hour markers that are divided by the inner minute track. Inside the watch is the automatic and chronometer-rated Caliber 3132 movement. The Cellini Time retails for $15,200 (either white or Everose gold) but they can often be purchased pre-owned for 20-30 % less.
Rolex Cellini Date
The Cellini Date offers the addition of a date indicator but rather than the window we've grown accustomed to with Rolex Oyster watches, this model indicates the date via a subsidiary dial at 3 o'clock. The two Rolex Cellini Date models are the Cellini Date ref. 50519 in white gold and the Cellini Date ref. 50515 in Everose Gold.
The dials of the Rolex Cellini Date are decorated using a traditional guilloché technique, resulting in lines radiating from the center out towards the periphery. Alongside subtle dial color options like black or silver, Rolex also offers a fantastic blue dial version of the Cellini Date, complete with a coordinating blue leather strap. Powering the Cellini Date is the Caliber 3165 automatic movement and the watch retails for $17,900 but again, a pre-owned version can often be bought for less on the secondary market.
Rolex Cellini Dual Time
The Rolex Cellini Dual Time allows the wearer to read two time zones simultaneously. Local time is displayed via the central hour/minute/seconds hand while the second time zone is indicated on a sub-dial at 6 o'clock. Since the second time zone display follows a 12-hour format rather than a 24-hour one, Rolex has included a day/night indicator by way of a sun or a moon appearing in a small window within the secondary time zone sub-dial.
The two Rolex Cellini Dual Time references are the Cellini Dual Time ref. 50529 in white gold and the Cellini Dual Time ref. 50525 in Everose gold. Both models offer the choice of a black or silver dial that is decorated with a guilloché motif and topped with the characteristic elongated and divided applied hour markers. The Rolex Cellini Dual Time runs on the in-house Caliber 3180 self-winding movement and the watch retails for $19,400.
Rolex Cellini Moonphase
Three years after the redesign of the Cellini collection, Rolex revealed another surprise with the introduction of the Cellini Moonphase. Debuting at Baselworld 2017, the Rolex Cellini Moonphase is the first Rolex watch to include a moonphase display since the 1950s.
Like all Cellini watches, the Rolex Cellini Moonphase features a 39mm case but it is only available in 18k Everose gold. Therefore, there's only one version and it is the Cellini Moonphase ref. 50535. The watch is furnished with a white lacquer dial and the date is displayed by a blue hand with a crescent moon tip pointing to the numbers around the circumference of the dial. A blue enameled disc at 6 o'clock serves to show the current moon phase of the lunar cycle, with the moon itself represented by a small disc of meteorite. Encased inside the Cellini Moonphase is the self-winding Caliber 3195 and this unique Rolex watch retails for $26,750.
Discontinued Rolex Cellini Models
Although no longer produced by Rolex, there are plenty of vintage and discontinued Cellini models to discover on the pre-owned watch market. Despite the immense variety of older Rolex Cellini models, there are a few characteristics that they all share:
– Precious metal non-Oyster cases in solid gold or platinum
– Time-only displays
– Rolex Genève and Cellini on the dial
– Precious metal bracelets or leather straps
Older Rolex Cellini watches can come with all sorts of case silhouettes including round, oval, square, rectangular, hexagonal, octagonal, tonneau, cushion, and asymmetrical. Plus, depending on the model, Rolex used hand-wound, automatic, and even quartz movements to power these now-discontinued Cellini watches.
The Most Famous Discontinued Cellini Models
Some notable Cellini models from older Rolex catalogs include:
Cellini Midas
– Avant-garde designs characterized by asymmetrical cases and inspired by the famed solid gold Rolex Midas of the previous decade.
Cellini Classic
– Round slim cases, manual-winding movements, and leather straps.
Cellini Danaos
– Vintage-inspired cushion-shaped cases.
Cellini Cestello
– Ultra-thin cases with flat bezels and hinged lugs.
Cellini Cellissima
– Ladies' watches with round or oblong cases.
Cellini Prince
– Art Deco rectangular case inspired by the 1928 Rolex Prince watch.
Cellini Cellinium
– Round platinum cases available in 35mm and 38mm sizes.
The Refined Rolex Cellini
The Rolex Cellini collection is truly refinement at its best, and that's saying a lot for a brand that's known for over-engineered watches that are built to be worn every day and last multiple lifetimes. Due to its elegance and sheer modernity, the Rolex Cellini should be touted for its polished versatility; however, it often does not receive nearly the level of attention that it deserves simply due to the massive notoriety of its siblings within the Rolex catalog.
Due to its elegance and sheer modernity, the Rolex Cellini should be touted for its polished versatility. Whether or not you ultimately want to add a Rolex Cellini to your collection is an entirely personal decision. However, it still remains a rather undeniable fact that the Rolex Cellini is the brand's most elegant and refined line of timepieces, and one that offers exceptional value for the money, especially when purchased on the pre-owned market.
With all of that being said, we hope next time you spot a Rolex Cellini you'll at least take a second look and consider this as more than just a dress watch, but an important part of Rolex's history and brand identity.