It's hard to beat Omega's longstanding history of quality craftsmanship and accuracy. Known for their continual innovation and next-generation in-house movements, it's no wonder that Omega watches has been the official timekeeper for the Olympics since 1932.
To celebrate this partnership, Omega releases a limited edition watch to commemorate most Olympic Games, including the Seamaster Diver 300M Beijing 2022 watch. Each of these gold-medal-worthy timepieces features the bold designs and precision that Omega is known for. Learn more about these watches or explore our collection of Omega Olympic watches today.
History of Omega Olympic Watches: A Rising Olympic Star
The original Olympic Games were held in ancient Greece as far back as 776 BC and were revived in 1896, becoming the most prestigious sporting event in the world. By 1932, it had become clear that this special event needed its own official timepiece, and that is when the partnership with Omega was born.
By this point, Omega, founded in 1848, had established its own reputation for excellence, producing some of the most forward-thinking watches of that time. This made it a natural choice as the official timepiece of the Olympics, a position it's held ever since. Today, Omega also plays a role in the Youth Olympic Games and Paralympic Games.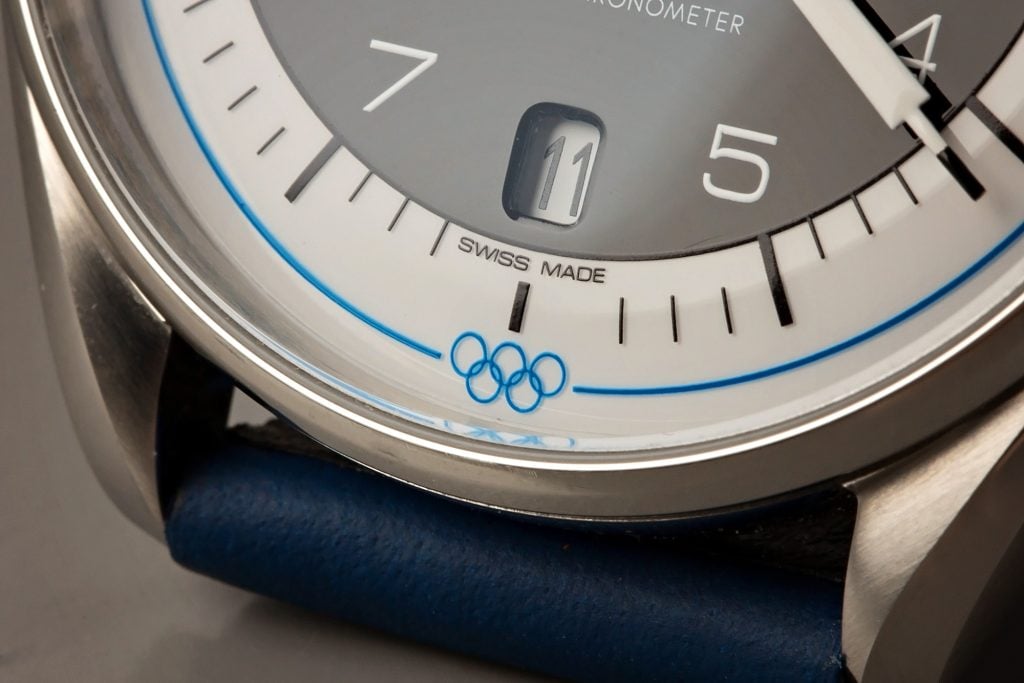 A Look at Past Omega Olympic Watch Models
Since Omega and the Olympic committee made the partnership official, Omega has enthusiastically celebrated this prestigious role, releasing numerous limited edition timepieces. Here are just a few of the brand's most popular Olympic watches from the past ninety years.
The Original 1932 Olympic Stopwatch
The original Olympic Omega was not a wristwatch but a stopwatch. Omega crafted thirty of these precise stopwatches, which were used to time 117 events. Some of these stopwatches are still available today and are some of the rarest timepieces in the world.
1956 Omega Seamaster XVI
Created to commemorate the Melbourne Olympic Games in 1956, these watches were one of the first Olympic watches that Omega created specifically to commemorate the Games. This gorgeous timepiece featured a pink gold case and band and the Olympic rings on the dial. It was released as a limited edition.
1968 Omega Seamaster Olympic Cross of Merit
In 1952, the International Olympic Committee awarded Omega with the prestigious Cross of Merit for its contributions to the Games. In 1968, Omega released this beautiful gold Seamaster in honor of that prestigious award. It features the Cross of Merit, and it is still a popular watch in auction houses.
1976 Seamaster Chrono-Quartz Montreal Olympics Albatross
This uniquely shaped stainless steel watch features both an analog and digital display, one of the first of its kind. It also features a stainless steel case and bracelet and a quartz movement. This watch is a must-have for any serious collector.
2007 Omega Limited Edition Pocket Watch 1932
When it comes to exclusivity, it's hard to beat this limited edition pocket watch that commemorates the original. Released in 2007, Omega only made about 100 of these pocket watches. Today, these are still highly sought after by collectors.
​​2008 Seamaster XVI Re-Edition
This was another incredibly limited release for Omega. They only made 88 of these watches and sold them exclusively at the 2008 Beijing Summer Olympics. By the end of the event, they were sold out. Like several Omega Olympic Watches, they feature a white dial, leather strap, and gold case.
2012 Seamaster 1948 Co-Axial London
This Seamaster paid tribute to both the 1948 and 2012 Olympic Games, which were both held in London. These watches featured a 39 mm brushed stainless steel case, a co-axial movement, a silver dial, and the 2012 Olympic Games medallion engraved on the back.
The Omega Rio 2016 Collection
Like many of the later Olympic models, the Rio collection was filled with bright colors and bold design choices. This collection included three models: the Seamaster Bullhead, the Seamaster Diver 300M, and the Speedmaster Mark II Rio 2016. Each featured the Rio 2016 Olympic Games logo embossed on the caseback.
The Omega PyeongChang 2018 Collection
This sporty masterpiece was a bold statement with its blue dial, red accents, and exquisitely crafted sapphire glass caseback that featured the Olympic Winter Games PyeongChang 2018 logo. It was released in two models, the Aqua Terra 150M and the Planet Ocean 600M. The Aqua Terra features a stainless steel band, while the sportier Planet Ocean 600M offers a bold blue and red rubber band.
Olympic Games Tokyo 2020 Collection
A return to the larger Omega watches, this collection features a 41 mm stainless steel case, a stainless steel band, and a ceramic dial in a stunning blue. These watches also have a beautiful sapphire crystal glass caseback with the Tokyo 2020 Olympic Games emblem on them. These one-of-a-kind watches are sure to become classics.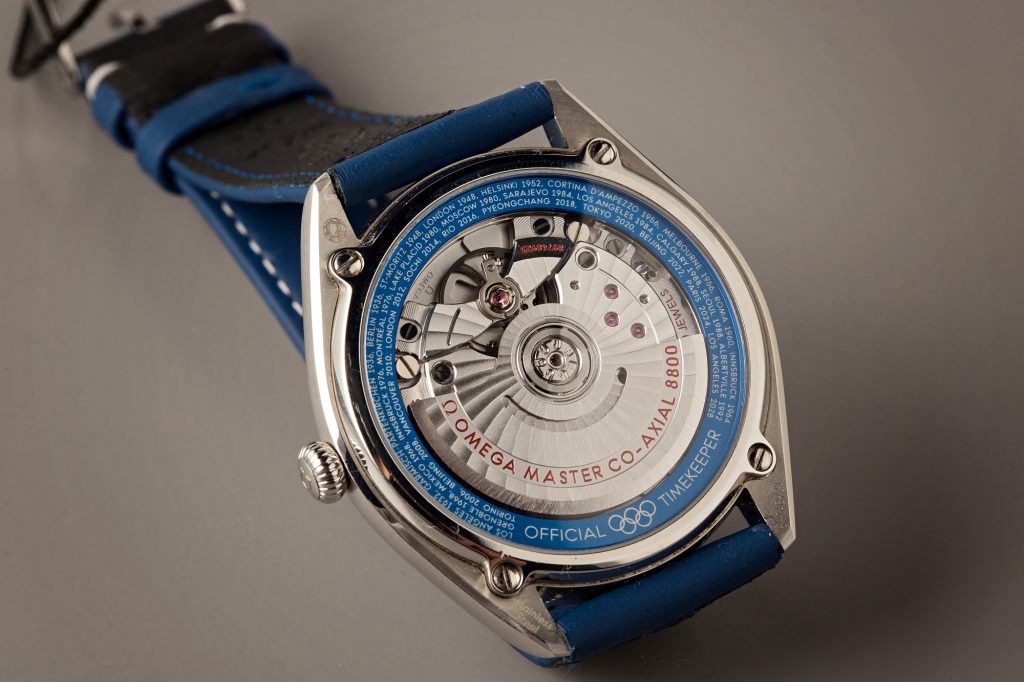 Today's Omega Olympic Watches
If you are looking for a newer Omega Olympic watch, you are in luck. The company has continued releasing new models, including the Seamaster Diver 300M Beijing watch collection. Learn more about the latest watches.
Seamaster Diver 300M Beijing 2022 Watch
Released to celebrate the 2022 Winter Olympics, this watch is a true piece of craftsmanship with its eye-catching blue dial, stainless steel construction, titanium bezel ring, and its in-house OMEGA Co-Axial Master Chronometer Calibre 8800 movement.
Seamaster Olympic Games Collection
If you are looking for a bright, playful watch, the Seamaster Olympic Games collection is an excellent choice. These watches honor the iconic rings of the Olympic Games and feature five bright colors.
Seamaster Olympic Games Gold Collection
Released in 2018, this collection honors the gold, silver, and bronze medals awarded to the winners of the Olympic Games. A classic-looking watch, they feature 39.5 mm cases, brown leather straps, a simple white dial, and a choice of three cases.
The Olympic Official Timekeeper Collection
Like the Gold Collection, these watches feature a clean design with a white dial, leather straps, and a substantial case that makes it easy to keep time. However, the brand's signature blue hands give these watches a pop of color.
Things to Consider When Purchasing an Omega Olympic Watch
There are several things that you will want to think about when purchasing an Omega Olympic watch. See what there is to consider.
New or Preowned
One of the things that Omega is best known for is its love for limited releases, and its Olympic watches are no exception. You can count on the brand to come up with something new for each Olympics. However, there is no shortage of wonderful preowned and vintage styles to choose from.
Many preowned Omega watches cost less than buying new ones, though that might not be the case with its very limited releases. At Bob's Watches, we carry a selection of some of the most sought-after Omega Olympic watches.
Style
You might expect all Omega Olympic watches to be large multi-function chronographs, but that's not always the case. There is quite a bit of diversity when it comes to these watches, including the relatively smaller and colorful Seamaster Olympic Games Limited Edition Collection.
Model
There have been several Omega Olympic watches released over the years, with some more popular than others, each with different movement styles and functions. The cost of each model varies, with some less popular models coming in at relatively accessible price points.
Authenticity
As with all Swiss watches, you will always want to purchase your watch from a reputable, certified dealer. At Bob's Watches, we are one of the largest and most trusted online certified preowned Omega watch retailers. All our products come with a certificate of authenticity.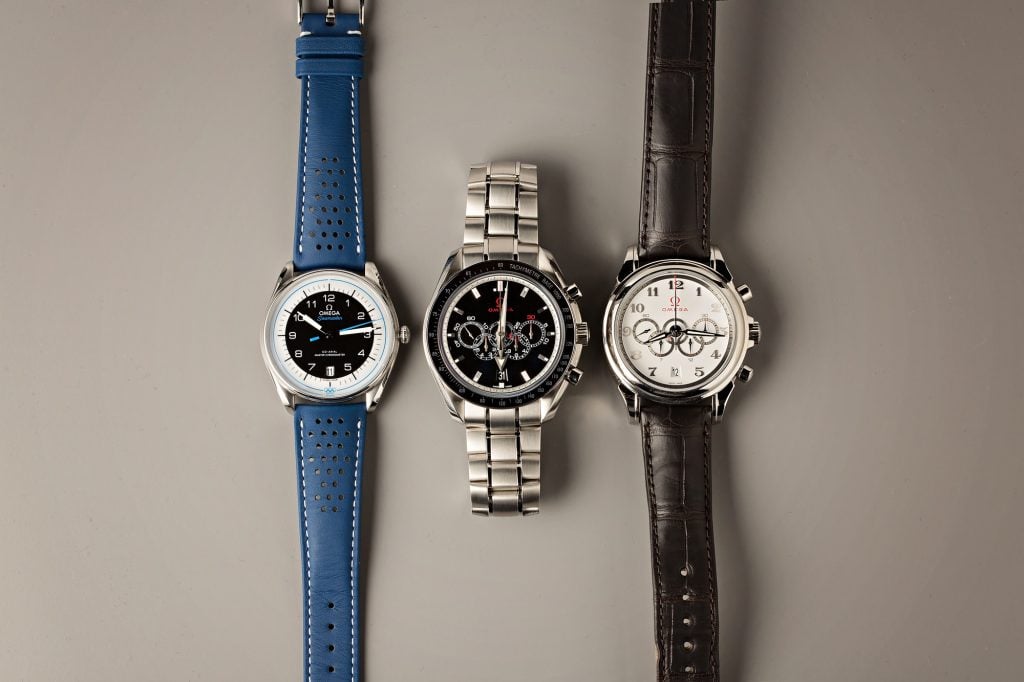 How Much Do Omega Olympic Watches Cost?
The cost of your Omega Olympic will depend on several factors, including age, condition, model, and market conditions. You can typically expect to spend in the low four figures up to five figures and more. See individual watches for pricing.
Omega's collection of Olympic watches is where fine Swiss watchmaking and sports history collide. If you want to own a piece of these treasured traditions, you can't go wrong with one of these Omega Olympic watches. Browse our collection and order yours today.