Over the last few years, auction prices for classic Rolex references have spiraled out of orbit into the realm of super-rich fiction. And with every unique or ultra-rare model that breaks the previous record, the bar is raised for those that follow.
It's a fascinating time to be a Rolex collector, and nigh impossible to predict what the future holds. But, for now, we've put together a list of the most expensive Rolex watches ever sold.
Most Expensive Rolex Watches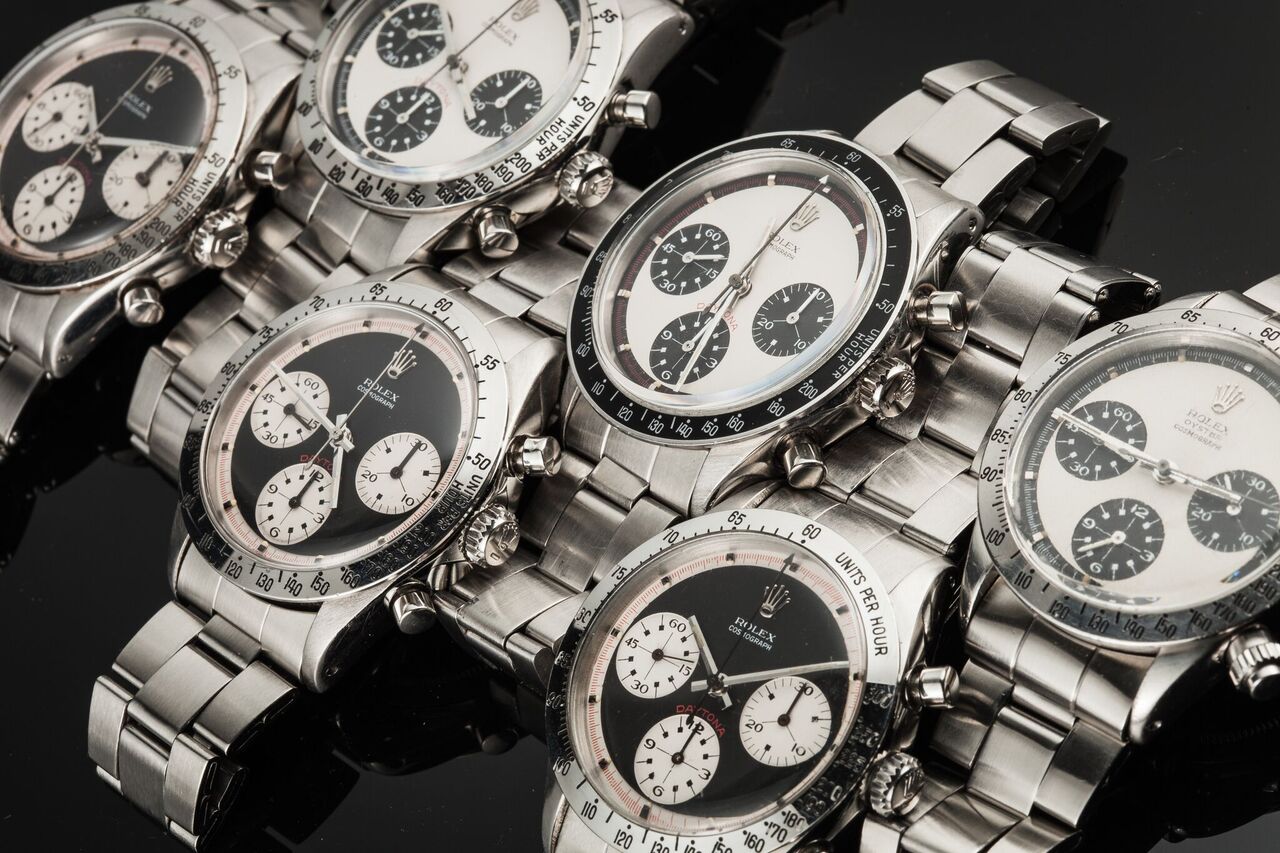 Paul Newman's Rolex Daytona ($17.8 million)
When Paul Newman's Rolex Daytona resurfaced in 2016 after a three-decade absence, it's fair to say the vintage watch world lost its collective mind. The scale as to just how much that mind had been lost was revealed when the hammer dropped after just 12 minutes of furious bidding at Phillips' inaugural New York auction in October 2019. An anonymous voice on the end of a phone gained ownership of the most important timepiece to be made public in a generation, and at $17.7 million, this white whale of the horological world became the most expensive Rolex ever sold.
It obliterated the previous record for the most expensive Rolex ever sold, held for just six months by the bargain basement Bao Dai moon phase. Owned by the movie legend from 1972, when his wife Joanne Woodward presented it to him as a gift to commemorate the start of his professional racing career, Newman gave it away to his daughter Nell's boyfriend James Cox in 1984. Why? The boy didn't have a watch of his own.
Cox wore the horological Holy Grail in blissful ignorance as to its prominence for thirty years before it was spotted on his wrist by a clued-up collector.
By then, he was the treasurer of the Nell Newman Foundation, a charity set up by his former girlfriend to carry on her father's extensive philanthropic legacy. The mammoth proceeds of the sale of the Daytona are going to help fund the organization.
To say the auction was highly anticipated would be an incredible understatement. A watch that was only rumored to still exist, the model that had launched the vintage market as we know it today and the most sought after variant once owned by the man who gave it its nickname – perhaps we shouldn't have been so shocked at the financial lengths someone was prepared to go to secure it.
Even so, $17.7 million is likely to be the price to beat for some time, perhaps until Paul Newman's owner decides to sell it on again. If and when that happens, or other Rolex's break into the top six, you can be sure you'll be able to read all about it here.
Rolex Daytona Reference  6265 "Unicorn"  ($5.9 million)
The Rolex is a reference 6265 Rolex Oyster Cosmograph Daytona, and this particular timepiece is the only known example of the reference 6265 to have ever been manufactured in 18k white gold – making it a true 'unicorn.'
The reference 6265 was first manufactured in 1970 and uses the same Oyster case and screw-down chronograph pushers as the reference 6263 – however the reference 6265 was fitted with a metal bezel rather than one made from acrylic. Vintage Rolex Daytona watches were traditionally manufactured in either stainless steel or 18k yellow gold, and while some 14k yellow gold examples were produced for the North American market, this white gold reference 6265 is truly unique, and is the only known example of its kind.
While the watch itself is absolutely gorgeous and truly about as rare and exclusive as Rolex timepieces get, the most important detail about this white gold, reference 6265 is that 100% of the proceeds from its sale went to the charity, Children Action. This incredibly rare watch was sold by Phillips at auction in May 2018 for $5.9 million USD, instantly becoming the second most expensive Rolex watch ever sold.
1969 Paul Newman Daytona Ref. 6263  ($3,717,906)

When a vintage Rolex is given the nickname 'The Legend,' you know it's not going to be cheap. Then when you consider this watch is one of just three ever made, and that it's an example of what battle-hardened collectors describe as their grail watch, you realize a standard size check probably won't be big enough to fit all the zeros on.
<;>The ref. 6263, with screw-down pushers and the same Cal. 727 movement as Eric Clapton's Albino  – which now looks like something of a bargain – is topped with an exquisite lemon grené dial with contrasting black sub-dials, complete with their Newman-esque Art Deco font.  In perfect condition and with an incredible rarity value, it's easy to see why this legendary example achieved the price it did.
The ref. 6263, with screw-down pushers and the same Cal. 727 movement as Eric Clapton's Albino (which now looks like something of a bargain), is topped with an exquisite lemon grené dial with contrasting black sub-dials, complete with their Newman-esque Art Deco font.
In perfect condition and with an incredible rarity value, it's easy to see why this legendary example achieved the price it did – surely the most anyone will ever pay for a Rolex Daytona!
Antimagnetique Reference 4113 ($2.5 million)
This ref. 4113 Antimagnetique chronograph held the record for most expensive Rolex ever sold at auction not once, but twice. The most recent $2.4M hammer drop at a Phillips' auction in 2016 more than doubled its former sum just three years previously – a testament to the runaway popularity of the brand's vintage collection.
Measuring 44mm in diameter this is the largest watch Rolex ever made. Only 12 were ever produced, all in steel and never made available to the public. Instead, they were given as gifts to a handpicked selection of famous racing teams and their drivers. The brand's close ties to the glamorous world of motorsport goes back as far as the 30s, and several of these oversize gems have made their way to auction through the families of the original recipients. Now that just one of eight are thought to still exist, Rolex's only split-seconds chronograph could well set more records tumbling in the future.
1969 Rolex Daytona Ref. 6263 ($2,001,562)
Formerly a highlight of one of the world's most important private collections, the reference 6263 shown here is one of only two such known Tropical "Oyster Sotto" – aged to perfection with some beautiful chocolate and creme patina. The unique and stunning dial was one of the most important Paul Newman Daytonas offered up at auction when it was listed in 2016. It has since been eclipsed in price throughout the years, but this was one of the most important Daytonas to go up at auction.
Marlon Brando's Rolex GMT-Master ($1.952 Million)
Legendary actor Marlon Brando's Rolex GMT-Master from the iconic 1979 Vietnam War flick 'Apocalypse Now' sold for an epic $1.95 million at Phillips Game Changers watch auction in 2019. Once considered one of the great "missing" celebrity watches, collectors were beyond excited to see this watch hit the auction block after his daughter Petra decided to sell it after seeing the astronomical price Paul Newman's watch got – we'll get to that below.
"This watch is like a tank," Petra recalls Brando telling her when he gave her the watch for her graduation. "You can do anything you want to it and it will keep on going." Petra ended up giving the watch to her husband as a wedding present, but told the press they decided the watch was a piece of history that "belongs in the hands of a collector who will give it the prominence it deserves." The family donated part of the massive proceeds to charity.
So what makes this watch so unique? Well, of course, Marlon Brando wore it. But, Brando's GMT-Master 1675 is also missing its distinctive "Pepsi" bezel and is hand engraved with "M. Brando" on the caseback.
Eric Clapton's Rolex Daytona  ($505,000)
Eric Clapton's 1971 Albino Rolex Daytona features a distinctive and unusual silver monochrome dial which makes this model stand out against Rolex's usual designs.
Despite its uniqueness, the watch was only estimated to sell at a fifth of it's actual selling price – so it seems anything worn by Mr. Clapton will make a huge profit.
1973 James Bond Rolex 5513 ($450,000)
Anything to do with James Bond tends to do well at auction, and this watch isn't likely to be an exception. The stylish 1973 watch was given a typical Bond makeover, including removing the movement of the timepiece to install a razor disc with a small pinhole and magnetic field generator, both of which were used in iconic scenes in the film. The watch itself features a white-on-black dial, a stainless steel strap and chassis, and classic British details.
Gold Rolex Oyster ($444,000)
This distinctive gold watch was given to India's first president, Dr. Rajendra Prasad, on India's first Republic day in 1950. Dr. Prasad became well known for his subtle yet elegant style, so it's no surprise that there was no shortage of bidders when his famous watch went under the hammer. The watch has a very unique dial, featuring a gold map of India, and the date '26th January 1950′ engraved into it.
Ferrari Red Paul Newman Rolex Oyster Cosmograph Daytona ($267,203)
The Rolex Ferrari watch pairs the famously bold Rolex Daytona design with a bright red dial, and it certainly lives up to its name. This Ferrari Red Paul Newman Daytona was made by Rolex who manufactured this special edition watch to honor Newman's role in the 1969 film, Winning. We think they owed him at least that — since no one would even give the Daytona a second glance until Paul Newman strapped one on.
Only 22 of these watches were ever made, and it's estimated just 8 still exist today, making it extremely rare. So besides the dial what does this watch boast? Inside you'll find a tachometer movement of 200 beats an hour, a 30-minute counter, a 12-hour counter and a seconds counter, along with 17 jewel components. The bracelet has a sturdy Tritium coating, and the dial is covered in stylish sapphires. Just gorgeous.