Luxury watches are unique among the various items of menswear because they are the one accessory or piece of jewelry that is ubiquitously worn, both in formal and casual situations. Although the perfect watch for a black tie affair is likely not the same type of watch that one would take while vacationing on a tropical beach, luxury timepieces can be found on the wrists of men dressed in both swimsuits and three-piece suits alike.
The choice of men's luxury watch styles is immense – especially if you consider both current production watches as well as discontinued timepieces. What are the best watches for men? How many different watch styles are there? How much should you spend on a watch? Is it worth investing in a vintage watch? These are just a few of the questions we'll answer in this men's luxury watch ultimate buying guide.
Click here for a closer look at 5 of the most iconic luxury watches for men.
Different Watch Styles – The Right Watch for the Right Man
Today there is a timepiece manufactured for nearly every possible environment or situation. From black-tie affairs to mountain climbing, from deep-sea diving to automobile racing – there even exists a watch officially certified by NASA for manned space explorations, namely the Omega Speedmaster. The amazing diversity among timepieces and the sheer number of available options means that selecting a single watch has become no easy task. Thankfully, there is no reason that we must be confined to a single timepiece, and many men these days are choosing to own multiple watches.
The wristwatch is no longer a single item that exists within a man's wardrobe, but rather it has become an entire category of menswear. Although there are some watches like the Rolex Submariner that are equally at home at the beach as they are in the boardroom, many men enjoy having the option of multiple timepieces, with each one filling a slightly different role within the man's life.
Some of the most popular watch styles for men these days are:
Dress Watches
Dive Watches
Pilot and Aviator Watches
Military Watches
Racing watches
GADA watches
Dress Watches
Broadly speaking, dress watches are compact and elegant watches with understated dials, clean lines, and more often than not, leather straps rather than bracelets. At one time, dress watches were often crafted in precious metals such as gold or platinum, but these days it's not uncommon to find steel dress watches.
Some famous men's luxury dress watches include Rolex Cellini, Patek Philippe Calatrava, Omega De Ville, Cartier Tank, Vacheron Constantin Patrimony, and A. Lange & Söhne Saxonia. While the Rolex Day-Date, better known as the Rolex President, doesn't strictly adhere to the dress watch design codes, it is still the most famous dress watch of them all.
Dive Watches
As their name suggests, dive watches were explicitly developed to wear while diving. As such, dive watches have a few common traits, such as high-water resistance, a rotating 60-minute bezel to track dive times, and plenty of luminous material on the dial and bezel for legibility in the dark.
While dive watches may no longer be worn specifically for diving today, they remain one of the most popular types of men's luxury watch styles thanks to their attractive sporty designs. The Rolex Submariner is by far the most famous dive watch ever made; however, there are other excellent options including Blancpain Fifty-Fathoms, Omega Seamaster Diver 300M, Tudor Black Bay, Panerai Submersible, and Breitling Superocean. There are also extreme dive watches with even better water resistance like the Rolex Sea-Dweller, Omega Planet Ocean, Tudor Pelagos, and Breitling Avenger Seawolf.
Pilot Watches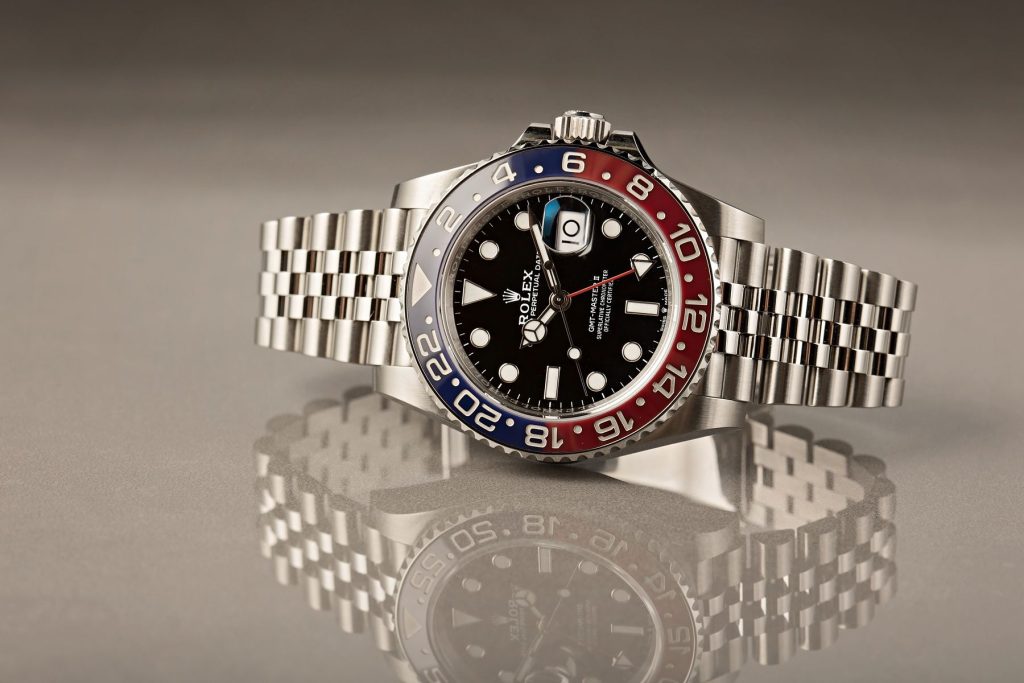 Pilot timepieces, which are also another popular men's luxury watch design, are, yet again, rooted in their origins as tool watches. Vintage-style aviation watches typically have large cases that house uncluttered dials with big hour markers for optimal readability, as well as oversized winding crowns for ease of grip with flying gloves on.
Some famous modern-day examples of these include IWC Big Pilot and Zenith Pilot. Pilot chronographs, such as Breitling Navitimer and Breguet Type XX are admired too. Rolex developed the famed GMT-Master pilot watch in the 1950s specifically for Pan Am pilots to keep track of two zones and today, the GMT-Master II remains one of the best men's luxury watch money can buy. Tudor makes a similar watch in the form of the Black Bay GMT, complete with a blue and red "Pepsi" bezel.
Military Watches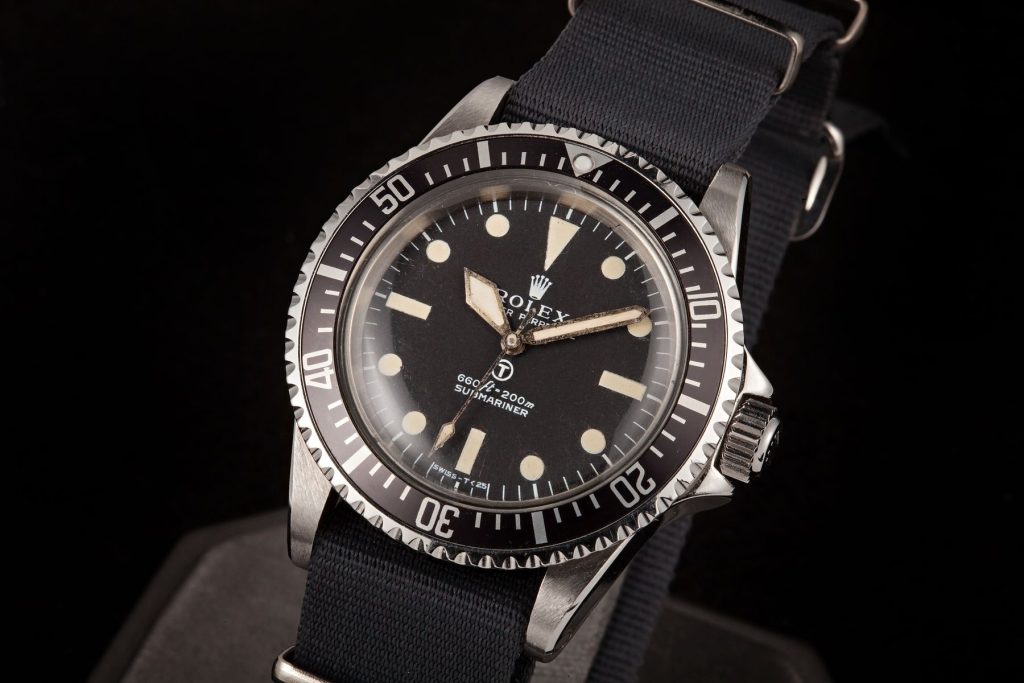 Because of the need for precise timekeeping during combat, the history of watches is inextricably linked to warfare. World War II was especially important for watchmakers everywhere as nations required large numbers of watches for their soldiers, combat divers, sailors, and airmen. Military watches can include purpose-built watches for the armies, navies, and air forces.
For instance, field watches were originally intended for infantry in the 20th century, and they remain a popular style today thanks to their simple and rugged designs. Some watchmakers, such as Omega, Longines, IWC, Jaeger-LeCoultre, and others were commissioned to supply mil-spec watches to the British Military of Defense (MoD). Panerai watch designs were originally conceived for the Royal Italian Navy frogmen during WWII while Tudor has supplied numerous watches to the French Navy over the decades.
Racing Watches
Racing watches are generally chronographs with tachymeter scales on the bezel or dial. The chronograph function can time elapsed events (handy during a race) while the tachymeter scale can measure the average speed over a set distance or the distance traveled at a set speed. In fact, many chronographs were developed as motorsport racing watches during the mid-20th Century.
The Rolex Cosmograph Daytona is a great example, as is the Tudor Black Bay Chrono. TAG Heuer has made more than its fair share of racing watches including Carrera, Monaco, and Formula 1. Although the Speedmaster is best known for its history with space exploration, before it was the "Moonwatch" it was a chronograph created for speed on the racetrack. The Omega Speedmaster Racing is a nod to that racing origin.
Casual GADA Watches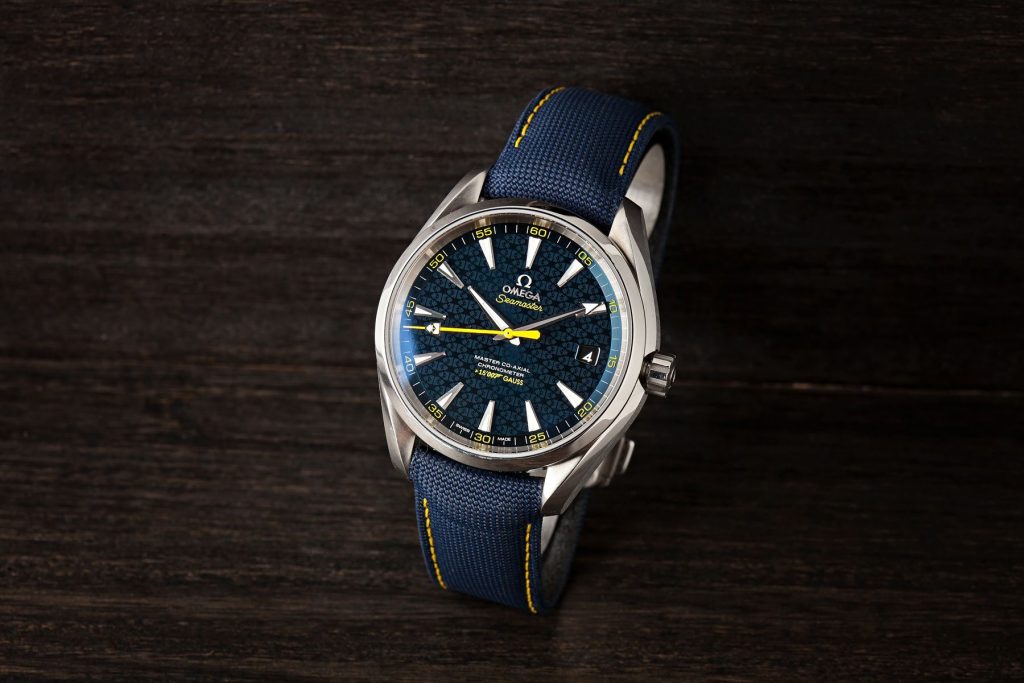 Go Anywhere Do Anything watches, better known as GADA watches, are exactly what they sound like – versatile men's luxury watch models that serve as great daily companions.
Rolex makes several models that can be considered GADAS, such as the Oyster Perpetual, Datejust, and Explorer. From Tudor, there's the Black Bay 36 and Black Bay 41 while Omega's Aqua Terra has proven to be a highly admired everyday timepiece.
Watch Materials
In addition to a particular style, the material that the watch is made of will have a significant impact on both the look and cost of the watch. Some popular watch material options include:
Stainless steel
Titanium
Gold
Ceramic
It's important to note that some watch brands use proprietary metal alloys to craft their watches. Some notable examples include Rolex's Oystersteel (904L steel alloy), Everose gold (rose gold alloy), and Cerachrom (ceramic alloy). What's more, Rolex also brands its two-tone watches as Rolesor, which are further distinguished as Yellow Rolesor (steel and yellow gold), White Rolesor (steel and white gold), and Everose Rolesor (steel and rose gold).
Omega is another luxury watch brand that often makes watches from proprietary gold alloys. There's Moonshine gold (pale yellow gold), Sedna gold (red gold), Canopus gold (white gold), and Bronze gold (gold and bronze alloy).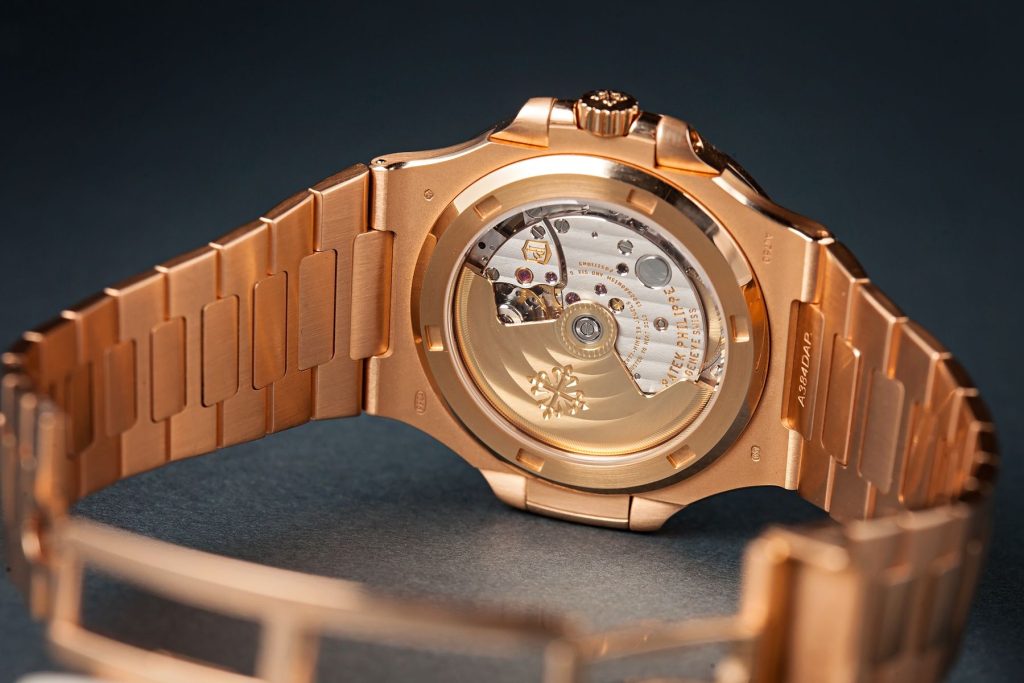 Watch Movements
In more recent years, the role and purpose of a luxury watch within a man's wardrobe have changed. Today, cellular phones, computers, atomic clocks, and even our kitchen appliances keep near-perfect time, and even those who do not wear a watch have the ability to view the time of day on a myriad of other devices that surround us throughout the day.
Watch movements, which are the engines that power timepieces, are generally categorized into two groups: mechanical and quartz. Mechanical movements are further available in two broad categories: manually wound movements and self-winding movements.
Watches with Different Movements:
Just like how there are different types of watches, the internal movements that power them can also be different.
Quartz watches, which can be battery-powered watches or solar-powered watches
Manually wound watches, which are also known as hand-wound watches
Self-winding watches, which are also known as automatic watches
Watches with hybrid movements such as Spring Drive movements or Kinetic movements
Mechanical movements – whether hand-wound or automatic – are considered more prestigious (and therefore, are more expensive) than quartz ones. However, quartz watches have their devoted fans too given that they offer more practicality (you don't have to wind them) and better accuracy.
In terms of pure functionality, mechanical watches will always fall short of their quartz counterparts. The invention of the quartz movement more or less "perfected" the art of timekeeping; however, the ability to accurately tell time has become increasingly less important as other devices within our lives take over the same function. For many modern luxury watches, their performance ability falls secondary to their design, materials, and their importance within their respective manufacturer's history.
The lack of a necessity for wristwatches has allowed them to transcend their strictly functional origins, and become tiny pieces of mechanical, wearable art that can be used to express one's personality. Free from the confines of producing timepieces designed around function and practicality, many luxury brands are embracing their freedom, and are now manufacturing watches that showcase their technological achievements or use of exotic/proprietary materials.
Price Range: How Much Should You Spend on a Watch?
The price of a men's luxury watch can vary greatly from a couple of thousand dollars to five and six figures The cost of a watch depends on a number of factors, including:
Brand
Model
New vs. Pre-Owned
Retail Prices vs. Secondary Market Prices
Since Rolex is exceedingly in demand these days, many Rolex watches (particularly stainless steel ones) are virtually impossible to buy new from an authorized retailer. A popular reference will likely sell for more than retail in the secondary market. For more somber dial shades such as silver and black but can quickly skyrocket to over $20,000 for coveted colors like turquoise.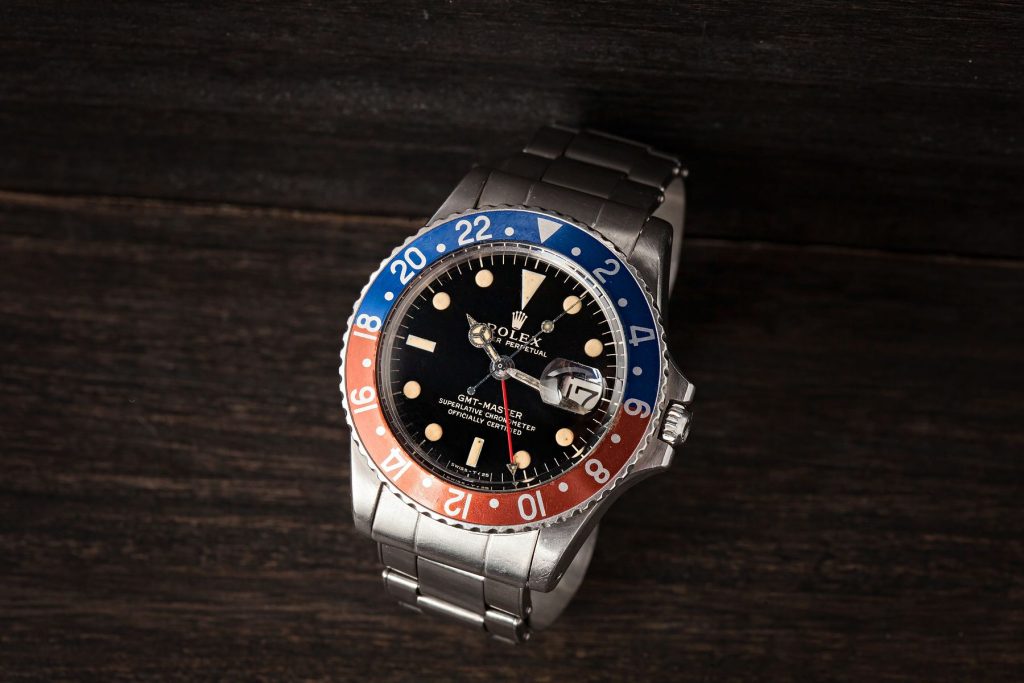 Investing in Vintage Watches
Luxury watches, Rolex or not, are often able to retain much of their value throughout the years, and in certain cases, even appreciate if given enough time (and the right circumstances). Most possessions in our lives either wear out or become outdated as subsequent iterations are released. While watch companies are always releasing new models and working to improve upon their designs, the core function of a watch has not changed throughout the years, meaning that a finely crafted timepiece will never truly become outdated.
Investing in vintage watches can be an alternative to buying contemporary watches. Contrary to popular belief, not all vintage watches are ultra-expensive. Yes, some of them are; many vintage Rolex sports watches have become hot collector's items, therefore, their prices can be out of reach for many. Yet, the vintage watch market is home to a vast assortment of luxury watches from different eras, which can be more affordable than their modern counterparts.
As long as you take the time to do some research and buy from a trustworthy source, investing in vintage watches can open up whole new possibilities when searching for the perfect men's luxury watch.